Webinar | The Power of Languages and Stories in Drafting Indigenous Laws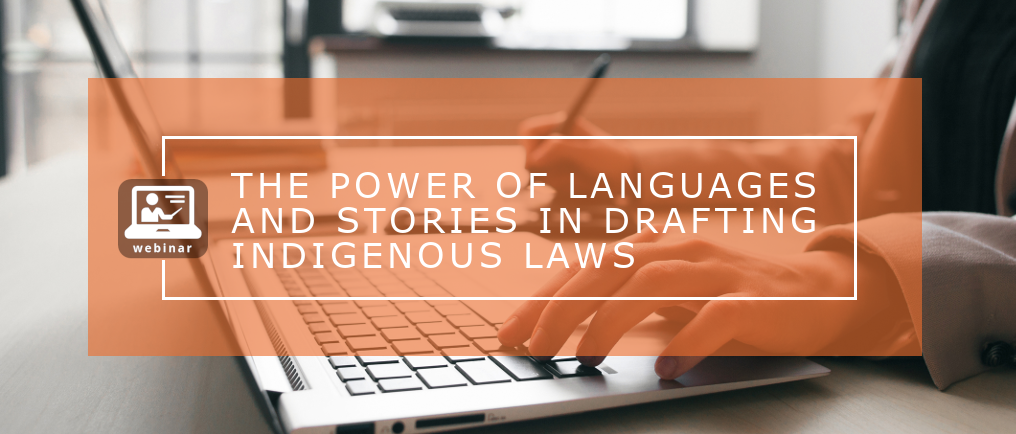 Date: November 9, 2023 / 3:30 pm
Price per person: $45 (Groups should register at the rate of $45 x the number of participants) / Free for CIAJ Members and Symposium on Indigenous Courts participants, but it is mandatory to fill the registration form.
Location: Online: 90-minute webinar beginning at 3:30 pm ET (see the different time zones across Canada)
*The webinar is free if you register for the Symposium on Indigenous Courts (November 21-22, 2023).
In English with simultaneous interpretation
Overview
In this webinar, OKT Partner Maggie Wente and Professors Naiomi Metallic and Sarah Morales will explore the theory and practice of legislating Indigenous laws. The discussion will examine how linguistic diversity and meta-principles can be incorporated into legislation, as well as the use of oral stories and Indigenous languages in legislative development. Panellists will also recount their own experiences assisting Indigenous nations who are drafting legislation, with a focus on child welfare laws under An Act respecting First Nations, Inuit and Métis children, youth and families and the lessons learned.
Speakers
Naiomi is from the Listuguj Mìgmaq First Nation, located within the Gespègewàgi district of Mìgmàgi. Naiomi W. Metallic is an Assistant Professor at the Schulich School of Law at Dalhousie University, where she holds the Chancellor's Chair in Aboriginal Law and Policy. She holds a BA (Dalhousie), an LLB (Dalhousie), an LLL (Ottawa), an LLM (Osgoode), and PhD (Alberta – in progress). She was also a law clerk to the Hon. Michel Bastarache of the Supreme Court of Canada in 2006-2007. Naiomi still continues to practice law with Burchells Wickwire Byrson LLP in Halifax (where she practised for nearly a decade before joining the law school, primarily in the firm's Aboriginal law group). She has been named to the Best Lawyer in Canada® list in Aboriginal law since 2015 and was chosen for Canadian Lawyers' Magazine 2018 Top 25 Most Influential Lawyers in the area of Human Rights, Advocacy and Criminal law. As a legal scholar, she is most interested in writing about how the law can be harnessed to promote the well-being and self-determination of Indigenous peoples in Canada, particularly through the revitalization of their governance, legal, cultural and economic institutions.
Sarah Morales, Associate Professor, Faculty of Law, University of Victoria
Sarah Morales (Su-taxwiye), JD (UVic), LLM (University of Arizona), PhD (UVic), PostDoc (Illinois) is Coast Salish and a member of Cowichan Tribes. She is an Associate Professor at the University of Victoria, Faculty of Law, where she teaches torts, transsystemic torts, Coast Salish law and languages, legal research and writing and field schools.
Prior to joining the faculty at the University of Victoria, she taught at the University of Ottawa, Faculty of Law where she taught Aboriginal law, Indigenous legal traditions and international human rights with a focus on Indigenous peoples.
Sarah's research centres on Indigenous legal traditions, specifically the traditions of the Coast Salish people, Aboriginal law and human rights. She has been active with Indigenous nations and NGOs across Canada in nation building, inherent rights recognition and international human rights law.
Maggie Wente is a partner at Olthuis Kleer Townshend LLP, a law firm serving exclusively Indigenous clients from across Canada. She is of Anishinaabe and settler descent and is a member of Serpent River First Nation. Maggie has a broad practice serving First Nations governments and their related entities. Maggie litigates Treaty and Aboriginal rights, equality rights, and governance matters. As a solicitor, she advises on governance, employment and human rights law and matters related to the Indian Act as well as First Nations jurisdiction. A significant portion of Maggie's practice is devoted to the pursuit of equality in services for Indigenous children in child welfare and health services and assertion of First Nations jurisdiction over child welfare. She has appeared in tribunals, courts of appeal and trial-level courts in Ontario, Newfoundland and Labrador, and the Federal Court, and the Supreme Court of Canada.
Maggie is actively involved in community service and mentorship within the profession. She is past-President of the Board of Directors at Aboriginal Legal Services of Toronto. She was a Commissioner at the Ontario Human Rights Commission from 2006 to 2015. Maggie is a member of the Indigenous Bar Association, the Ontario bar and the Newfoundland and Labrador bar, and is listed as Most Frequently Recommended in the Lexpert Directory on Indigenous Law and in Best Lawyers In Canada.
Maggie's most loved parts of her job are travelling to clients' communities, learning from community members and Elders and mentoring Indigenous law students.
Broadcast time across Canada (Thursday, November 9, 2023):
PT: 12:30–2 pm
MT: 1:30–3 pm
CT: 2:30–4 pm
ET: 3:30–5 pm
AT: 4:30–6 pm
NT: 5–6:30 pm
NOTE
Group viewing is recommended in a room (or rooms) with audio-visual equipment sufficient to accommodate the number of registrants expected at your location. A link to the webinar platform and a password will be sent by email  24-48 hours prior to the event. It is recommended to test the platform beforehand. Group should register individually at the rate of $45/participant.
Contact
For further information, please contact the Project Manager of Multidisciplinary Programs, Mary Plagakis
Tel.: 514-731-2855
Email: mary.plagakis@ciaj-icaj.ca