Free Student Panel & Cocktail | October 19, 2018, 1:00 – 4:00 pm, The Westin Ottawa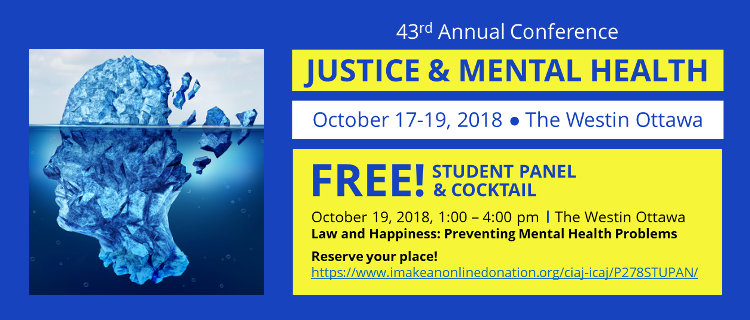 Free Student Panel registration form: https://www.imakeanonlinedonation.org/ciaj-icaj/P278STUPAN/
Details and registration for the whole conference (Oct. 17-19, 2018)
Student Fee: $75/3 days + networking cocktails & lunches included)
Law and Happiness : Challenges and Opportunities to Improving Lawyer and Student Well-Being 
Law school and legal practice can be tough. Through audience participation, this panel will explore both the systemic and personal factors that contribute to poor mental health and wellness among law students and young lawyers. We will discuss tools and resources that students and lawyers may use to cultivate greater resilience and well-being, and methods of building a healthier legal culture.
This Free Student Panel is part of the 2018 CIAJ Annual Conference, which will address the way in which Canada's justice system interacts with mental health at differing levels. Our Conference will present a multidisciplinary analysis (calling upon experts in law, psychiatry, psychology and social work) of the challenges faced by the intersection of mental illness and the law. Over 50 speakers will discuss systemic issues, difficulties in the courtroom, philosophical considerations, necessary future improvements, and much more!
Chair

Ms. Shannon Snow, Law Student, Faculty of Law, McGill University; Co-Founder and Managing Director, "Healthy Legal Minds"
Speakers
Ms. Jessica Simon, Equity & Wellness Counsellor, Faculty of Law – Common Law Section, University of Ottawa
Mr. Orlando Da Silva, Senior Counsel, Ontario Ministry of the Attorney General; Motivational Speaker
Ms. Ellen Huang, Law Student, Faculty of Law – Common Law Section, University of Ottawa; Vice-President Equity of the Common Law Student Society
Mr. Nathan Afilalo, Law Student, Faculty of Law, McGill University; CIAJ Summer Student
About CIAJ's Student Section
The CIAJ Student Section is a gathering place for law students across Canada. In addition to building bridges between students, the Section is an exclusive learning platform, offering numerous networking opportunities and enriching meetings with key players in the Canadian legal arena. The Canadian Institute for the Administration of Justice Launches a Student Section (Press release issued August 24, 2017)
Become a member, contribute to the exchange and develop your vast professional network!
"Like" the Student Section Facebook page : https://www.facebook.com/ciaj.students/
Benefits
Are you already a member but would like to be more involved?  
Would you like to represent your faculty? To join our team and contribute to the national development of our Student Section, please contact us at info@ciaj-icaj.ca.