Congratulations to our 2019 winner, Xavier Dionne!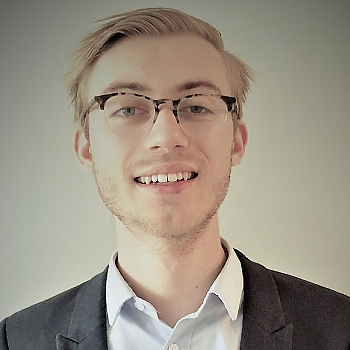 Mr. Xavier Dionne, a second-year law student at the Université de Montréal, is the recipient of the 2019 Christine Huglo Robertson Essay Prize of $1000 for his text entitled "Sur les épaules de robots : l'impact de l'intelligence artificielle sur la propriété intellectuelle" (On the Shoulders of Robots: The Impact of Artificial Intelligence on Intellectual Property). Congratulations! Mr. Dionne is invited to present his work at CIAJ's 44th Annual Conference on "The Impact of Artificial Intelligence and Social Media on Legal Institutions" to be held in Quebec City from October 16 to 18, 2019. His essay will then be posted on CIAJ's website.
Xavier Dionne also holds a degree in economics and politics with a specialization in the former from the same university. His areas of interest include intellectual property, artificial intelligence and constitutional law. In addition to developing computer tools used worldwide, he is currently working at the Canadian Space Agency.
The next prize will be awarded to the author of the best essay on "Indigenous Peoples and the Law". The deadline is June 12, 2020.
A stipend of $1,000…and much more!
The Christine Huglo Robertson Essay Prize aims to engage law students in the work of CIAJ and to promote scholarship concerning the administration of justice. It was created in 2013 to honour  CIAJ's Executive Director between 1992 and 2012.
The winner will receive a stipend of $1,000 and be invited to CIAJ's 45th Annual Conference on Indigenous Peoples and the law to be held in Vancouver from October 21 to 23, 2020. The paper may also be presented on that occasion. CIAJ will provide the recipient with travel, accommodation and registration to the conference.
CIAJ provides law students with various tools and projects through its Student Section. In addition to building bridges between students across Canada, the Section is an exclusive learning platform, offering numerous opportunities for students to network and collaborate with key players in the Canadian legal arena.
Eligibility Requirements
Be registered for an undergraduate degree (J.D., LL.B. or B.C.L.) at a Faculty of Law at a Canadian university;
Have written the paper in the twelve months preceding the closing date for submissions (papers submitted for academic credit may be submitted for this prize);
Provide confirmation of academic registration;
Provide a statement from the author confirming the date at which the text was finalized, and attesting that the paper has not been submitted elsewhere, in whole or in part, for publication or a prize;
Provide a text of no more than 7,500 words (including notes and tables) in English or French. The text must be in a format compatible with Microsoft Word. The candidate's name and university should appear on the coverpage but the text must not otherwise identify the author of the submission. Candidates are strongly encouraged to consider subjects relating to the theme of CIAJ's 2020 Annual Conference, which is: "Indigenous Peoples and the Law."
Registration
Documents listed in points 3 to 5 must be received by email at ciaj@ciaj-icaj.ca no later than Friday, June 12, 2020. A registration fee of $10 will be requested upon reception of the documents by email. CIAJ's annual membership is included in this fee and valid for one year from the date of registration. The winning text will be announced in July.
Selection
A committee will select the best paper. It must be of publishable quality and make a significant contribution to scholarship concerning the administration of justice. CIAJ will not award the prize if there is no text of sufficient merit. CIAJ will publish the paper in digital or printed form. Copyright will remain with CIAJ.
Past Recipients
| Year | Recipient | Title |
| --- | --- | --- |
| 2018 | Ms. Chantelle van Wiltenburg, University of Toronto Faculty of Law |  "Theories of Personhood: Capturing the Legal Subject in a Dangerousness-Based Model of Preventative Detention" |
| 2016 | Graham Sharp, University of Saskatchewan College of Law | The Right of Access to Justice Under the Rule of Law: Guaranteeing an Effective Remedy |
| 2015 | Mae Price, Faculty of Law, University of Victoria, Victoria, BC | Colonial Legacies and Fiduciary Law: A Conceptual Framework for Addressing Aboriginal Health |
| 2013 | Allan Yi Lin Wu, Faculty of Law, University of Victoria, Victoria, BC | Essentially Unsound?: The Impact of the "Essential Character" Approach to Arbitral Jurisdiction on The Administration of Industrial Justice |