Webinar | Creating Cultures Beyond Bias
Date: June 5, 2023 / 3:30 pm
Price per person: Free if you register for the CCAT Symposium and the CIAJ National Roundtable on Administrative Law — Webinar only: CCAT or CIAJ Members: $45 / Non-members: $85
Location: Online: 90-minute webinar beginning at 3:30 pm ET
In English with simultaneous interpretation
Participation in this program is accredited in provinces where CLE requirements for lawyers are mandatory.
Are you interested in the topic of bias? This webinar is for you! Register to learn more about the fundamentals of bias from an expert in the area: Jessica Nordell, award-winning author and science writer; author of The End of Bias.
Moderator: David Wright, Chair, Ontario Physicians and Surgeons Discipline Tribunal
Good news! You can attend for free if you register for other events at the first National Administrative Law Week, organized jointly by the CIAJ and CCAT from June 5-9, 2023 in Ottawa and online.
The webinar is free if you register for the CCAT Symposium and the CIAJ National Roundtable on Administrative Law. The advantage? The webinar will begin the discussion on bias which will continue at the Roundtable where you can explore the practical implications of bias. 
As a bonus, you will receive a copy of The End of Bias: A Beginning by Jessica Nordell if you participate in the webinar and also attend either the CCAT Symposium or the CIAJ National Roundtable in person.
Don't miss this webinar to learn more about bias and develop your skills! The whole legal community is invited, so why not be a part of it and join your colleagues from from across Canada?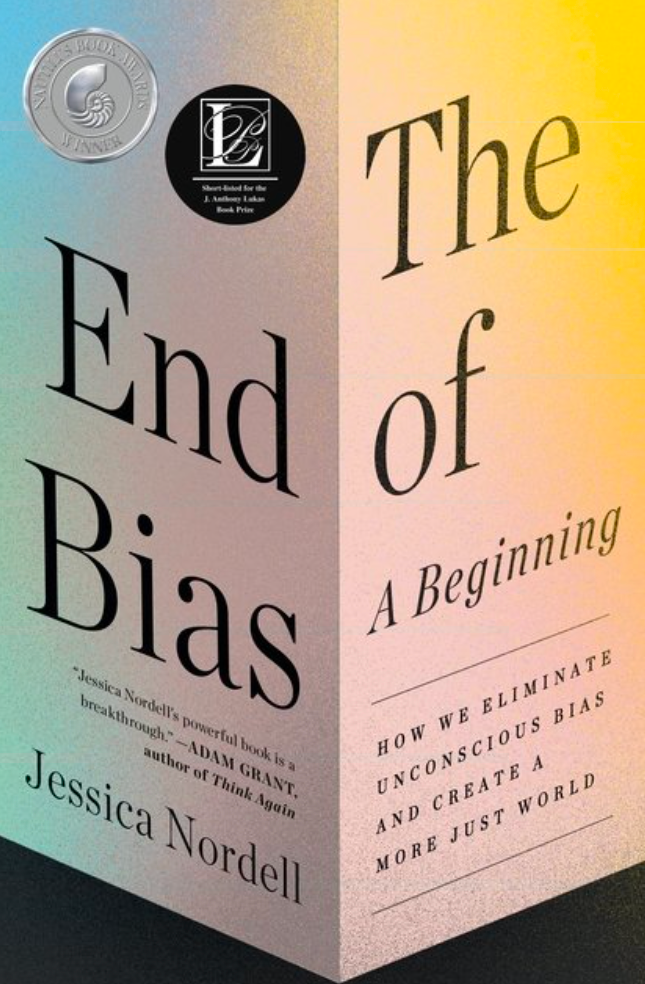 − The End of Bias: A Beginning: The Science and Practice of Overcoming Unconscious Bias
By Jessica Nordell
Publication Date: September 21, 2021
https://www.jessicanordell.com/the-end-of-bias 
Jessica Nordell is an award-winning author and science writer known for blending rigorous science with compassionate humanity. Her first book, The End of Bias: A Beginning, shortlisted for the 2022 Columbia Journalism/Lukas Prize for Excellence in Nonfiction, the 2022 NYPL Bernstein Book Award for Excellence in Journalism, and the 2021 Royal Society Science Book Prize, is the culmination of fifteen years of reporting and writing on the subject of bias and discrimination and how to solve it, for publications including the New York Times, the Atlantic, and the New Republic. The End of Bias was named a Best Book of the Year by the World Economic Forum, Greater Good, AARP, and Inc and is currently being used by organizations from newsrooms and startups to universities, healthcare organizations, and faith communities to solve some of their biggest cultural challenges.
Deeply engaged with connecting across differences to expand and heal the human experience, Nordell's own early-career experience with workplace bias inspired her passion for tackling discrimination. With degrees in physics from Harvard and poetry from the University of Wisconsin, Nordell often collaborates across disciplines; her work with computer scientists to simulate the real-world impact of workplace bias became a 2021 viral NYT story. Nordell has been a visiting scholar at MIT and is the recipient of a Gracie Award from American Women in Radio and Television, was named a Best New Poet by Tracy K. Smith, and was a 2022 featured speaker at SXSW. She is a direct descendent of the last woman to be tried for witchcraft in the state of Massachusetts, and is an amateur rock drummer.
Broadcast time across Canada (Monday, June 5, 2023):
PT 12:30–2 pm
MT 1:30–3 pm
CT 2:30–4 pm
ET 3:30–5 pm
AT 4:30–6 pm
NT 5–6:30 pm
Contact
For further information, please contact the Project Manager of Multidisciplinary Programs, Mary Plagakis
Tel.: 514-731-2855, extension 4
Email: mary.plagakis@ciaj-icaj.ca
---
Cancellation Policy:
30 days or more before the event: Administration fees of $40
7 days or more before the event: 50% of registration fees
Less than 7 days before the event: No refund
At any time, a participant may be replaced by another person without charge
COVID-19 Requirements
To protect everyone's health, the Canadian Institute for the Administration of Justice requests that participants, CIAJ staff, faculty members and speakers are vaccinated against COVID-19 unless they benefit from a recognized medical exemption. This request is in addition to any restrictions or vaccination requirements that may be in force in the jurisdiction or at the venue where the event is being held. Masks are strongly recommended.