2021 Annual Conference: Indigenous Peoples and the Law
***New dates: November 17-19, 2021***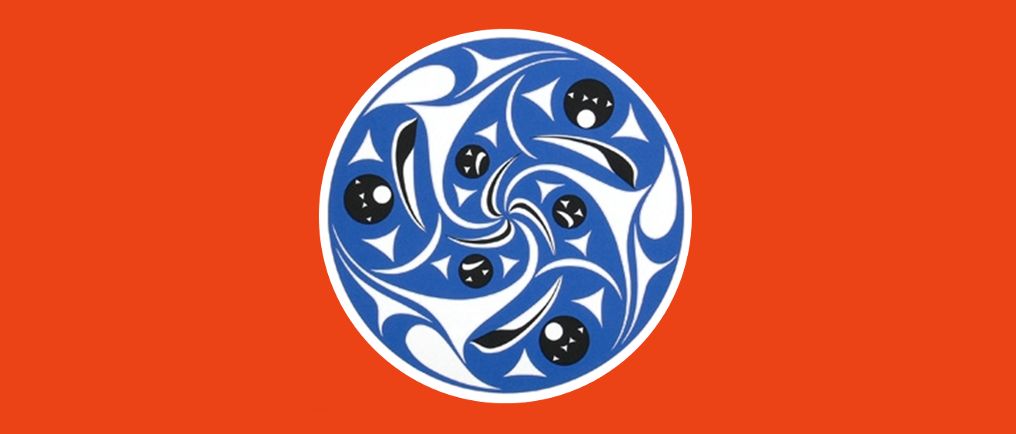 Date: November 17-19, 2021
Price per person: Group rates available (4 and more). Contact us! – Not-for-profit: $500 – CIAJ Members – Early bird rate: $795 ($895 after August 1, 2021) – Non-Members – Early bird rate: $945 ($1,045 after August 1, 2021) – Young lawyer CIAJ Member (5 years or less): $525 ($625 after August 1, 2021) – Young lawyer Non-Member (5 years or less): $625 ($725 after August 1, 2021) – Students: $75 (enrolled full-time at Canadian universities)
Location: Fairmont Hotel Vancouver; 900 West Georgia Street, Vancouver, BC V6C 2W6
***Postponed to November 2021***
Due to the COVID-19 pandemic, CIAJ has decided to postpone its October 2020 Annual Conference to November 2021. If you have any questions, please do not hesitate to contact us.

Image: "Sacred Circle" by Coast Salish artist from the Lyackson First Nation, Dylan Thomas
Bilingual program with simultaneous interpretation
Participation in this program is accredited in provinces where CLE requirements for lawyers are mandatory.
Participation in this program is approved under Section 41 (1) of the Judges Act.
Honorary Chair │ The Honourable Murray Sinclair, Senator
Chair │ The Honourable Robert J. Bauman, Chief Justice of British Columbia and of the Court of Appeal of Yukon
Overview
CIAJ's 45th National Conference will focus on the important issue of reconciliation with Indigenous peoples of Canada. Reconciliation, as defined by the Truth and Reconciliation Commission, is an "ongoing process of establishing and maintaining respectful relationships," by rebuilding trust, making reparations, and forging true social change. The conference will bring together contributors to the development of Indigenous law in Canada. They will share their experiences, successes, challenges, and lessons learned for future efforts in expanding Indigenous government and self-government in Canada and toward reconciliation with Indigenous peoples. There are many challenges ahead. Reconciliation requires dedication and commitment from all stakeholders. This conference will permit continuation of active education and facilitate important discussions regarding Indigenous issues and laws.
Become a partner of the Conference!
Position your organization as a committed leader in supporting the administration of justice in Canada and reach decision makers and prominent members from all branches of the legal community and across the country. Discover all the possibilities in our brochure: Sponsorship Package / Exhibitors
Planning committee
Justice Thomas J. Crabtree, Chief Judicial Officer, National Judicial Institute
Ms. Jennifer Cox, Staff Lawyer, Dalhousie Legal Aid Service, Dalhousie University
Professor Aimée Craft, University of Ottawa
Judge Tina Dion, Provincial Court of British Columbia
Justice Tracy Engelking, Superior Court of Justice (Ontario)
Chief Judge Melissa Gillespie, Provincial Court of British Columbia
Mr. Mark Gervin, Lecturer/Legal Services Director, Indigenous Community Legal Clinic
Professor Jeffery Hewitt, Osgoode Hall Law School, York University
Mr. Adam O. Letourneau, Lawyer, Mediator
Professor Bradford Morse, Faculty of Law, Thompson Rivers University
Justice Michelle O'Bonsawin, Superior Court of Justice (Ontario)
Ms. Christine O'Doherty, Lawyer, CIAJ's Executive Director
Justice James O'Reilly, Federal Court, CIAJ's President
Professor Kent Roach, Faculty of Law, University of Toronto
Mr. Scott Robertson, Past President, Indigenous Bar Association
Justice P. Colleen Suche, Court of Queen's Bench, Manitoba, CIAJ's First Vice-President
Professor Martine Valois, Ad. E., Faculty of Law, Université de Montréal
Chief Justice Michael Wood, Court of Appeal, Nova Scotia, CIAJ's Second Vice-President
Contact
For further information, please contact the Program Coordinator, Mary Plagakis
Tel.: 514-731-2855, extension 4
Email: mary.plagakis@ciaj-icaj.ca
---
Cancellation Policy:
30 days or more before the event: Administration fees of $40
7 days or more before the event: 50% of registration fees
Less than 7 days before the event: No refund
At any time, a participant may be replaced by another person without charge