Free Webinar Series on "Indigenous Peoples and the Law"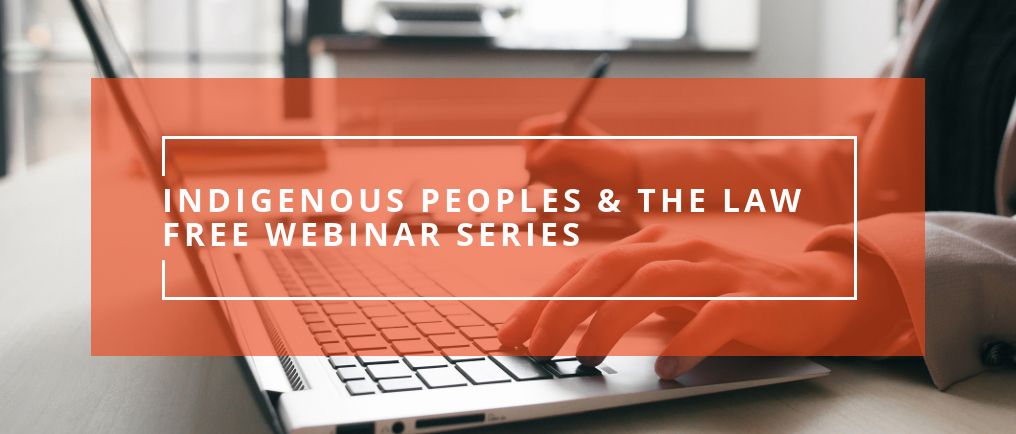 Date: March 10, 2021
Price per person: Free (registration is mandatory)
Location: Online
***This event is over. You can watch the videos here.
This free webinar series held in partnership with Courthouse Libraries BC has been designed to initiate discussion and pave the way to a major national conference on Indigenous Peoples and the Law to be held in Vancouver in November 2021. The webinars aim to enrich the participants' knowledge of the subjects that will be component parts of the larger issues examined at the conference, providing attendees with in-depth knowledge so as to enrich the discussions that will take place.
Start time according to different time zones in Canada
PT: 12:30 pm / MT: 1:30 pm / CT: 2:30 pm / ET: 3:30 pm / AT: 4:30 pm / NT: 5:00 pm
The time zone used in the program is Eastern Time
NOTE: The six 90-minute webinars are free, but registration is mandatory. It will be possible to register until noon (Eastern Time), the day prior to the webinar. Confirmed guest speakers and moderators can be found below.
• 1st Webinar: October 14, 2020: Overview of the Progress of the Calls to Action
(In English, with simultaneous interpretation)
Speaker:  The Honourable Murray Sinclair, Senator, Senate of Canada
Moderator:  The Honourable Justice Michelle O'Bonsawin, Superior Court of Justice (Ontario)
---
• 2nd Webinar: October 21, 2020: The Next Stages of Indigenous Governance in Quebec
(In French, with simultaneous interpretation)
Speakers: Chief Ghislain Picard, Assembly of First Nations Quebec-Labrador (Innu from the community of Pessamit); Ken Rock, Executive Director, Uashat mak Mani-utenam Economic Development Corporation
Moderator: Michèle Moreau, Lawyer
*** Note: Grand Chief Verna Polson from the Algonquin Anishinabeg Nation Tribal Council had to cancel her presence.
---
• 3rd Webinar: November 4, 2020: Looking at British Columbia's Declaration on the Rights of Indigenous Peoples Act
(In English, with simultaneous interpretation)
Speakers: Regional Chief Terry Teegee, British Columbia Assembly of First Nations (Takla Lake First Nation); Professor Mary Ellen Turpel-Lafond (Aki-Kwe), Peter A. Allard School of Law, University of British Columbia; Senior Associate Counsel, Woodward & Company (Muskeg Lake Cree Nation)
Moderator: Professor Bradford Morse, Faculty of Law, Thompson Rivers University
---
  • 4th Webinar: January 20, 2021: Discussing the Promises and Problems with the Act respecting First Nations, Métis and Inuit Children, Youth and Families
(In English, with simultaneous interpretation)
Speakers: Professor Hadley Friedland, University of Alberta Faculty of Law; Co-Founder, Wahkohtowin Law & Governance Lodge; Koren Lightning-Earle, Lawyer, Wahkohtowin Law & Governance Lodge (Samson Cree Nation, Alberta); Professor Naiomi Metallic, Chancellor's Chair in Aboriginal Law and Policy, Schulich School of Law, Dalhousie University (Listuguj Mi'gmaq First Nation)
Moderator: Jennifer Cox, Staff Lawyer, Dalhousie Legal Aid Service, Dalhousie University
Related documentation:
---
• 5th Webinar: February 17, 2021: Investigating the Indigenous Languages Act
(In English, with simultaneous interpretation)
Speakers: Chief Ronald E. Ignace (Stsmél'qen), Skeetchestn Band, Adjunct Professor, Anthropology, Simon Fraser University (Secwepemc (Shuswap) Nation); Professor Marianne Ignace (Gulḵiihlgad), departments of Linguistics and Indigenous Studies, Simon Fraser University; Director, SFU's Indigenous Languages Program and First Nations Language Centre; Professor Sarah Morales, Faculty of law, University of Victoria (Coast Salish, Cowichan)
Moderator: The Honourable Justice W. James W. O'Reilly, Federal Court; President, CIAJ
• 6th Webinar: March 10, 2021: Court Changes after the COVID-19 Pandemic and Indigenous Cultural Relevancy
(In English, with simultaneous interpretation)

Speakers: Leah Fontaine, BCPS Crown Counsel | Duncan Crown Counsel Office | BC Prosecution Service, Indigenous Justice Strategy & Policy (Dakota/Anishinaabe/Metis); Mark Gervin, Criminal Law Barrister; Lecturer and Legal Director, Indigenous Community Legal Clinic,  Peter A. Allard School of Law, University of British Columbia; The Honourable Justice Brent G. Hoy, Provincial Court of British Columbia
Moderator: Scott Robertson, Senior Associate, Nahwegahbow Corbiere Genoodmagejig Barrister & Solicitors (Six Nations of the Grand River, Hodinöhsö:ni')

Contact
For further information, please contact the Program Coordinator, Mary Plagakis
Tel.: 514-731-2855, extension 4
Email: mary.plagakis@ciaj-icaj.ca