2022 Annual Conference Free Student Panel (registration required)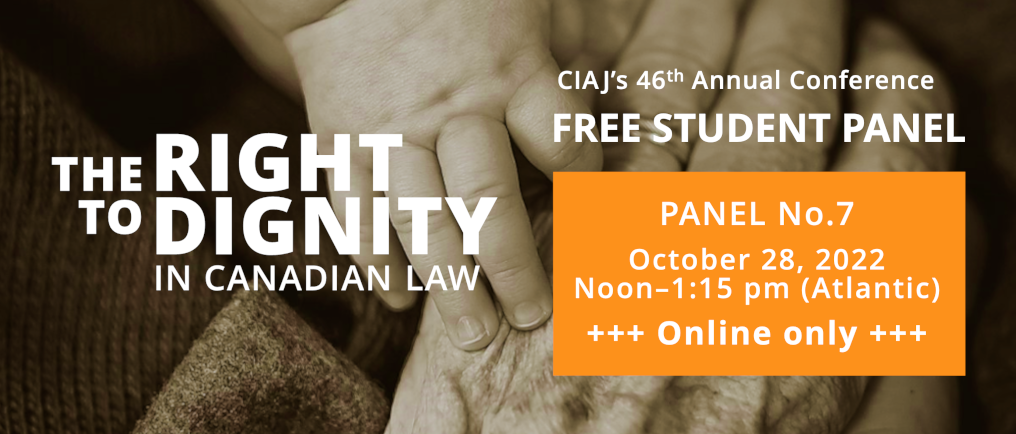 Date: October 28, 2022
Price per person: Free Student Panel
Location: Online
Bilingual program with simultaneous interpretation
Overview
Every year, CIAJ includes a free panel specially designed for law students in its flagship Annual Conference. Read more on the whole Conference on "The Right to Dignity in Canadian Law," on the event page.
Free* Student Panel (online participation only):
PANEL SEVEN | Diversity as Reality: Experiences of Law Students and Legal Professionals
Friday, October 28, 2022 from Noon to 1:15 pm (Atlantic Time Zone)
Description: This panel focuses on the inequity faced by women, non-binary people, the 2SLGBTQ+ community, BIPOC individuals, and those with disabilities in law school and legal practice. The legal profession is infamous for its trifecta of admissibility criteria: masculinity, whiteness, and class privilege. This antiquated idea of "professionalism" has often impeded marginalized groups' access to legal education and practice for generations. Students and lawyers that manage to bypass this habitual gatekeeping routinely face discrimination—often taking the form of racism and sexism—in their places of work and education. A 2019 Law Society of Alberta survey of articling students and new lawyers revealed that one in three experienced these types of discrimination and harassment during recruitment, articles, or both.
Panel Chair
Megan Longley, K.C., Executive Director, Dalhousie Legal Aid Service, Schulich School of Law, Dalhousie University
Speakers
Chantalle Briggs, Ph.D., J.D., 1st-Year Associate, Bereskin & Parr LLP
Dominga Robinson, Juris Doctor Candidate, College of Law, University of Saskatchewan
Michelle Liu, J.D. Candidate, Faculty of Law – Common Law Section & Ph.D. Candidate in Civil Engineering, Centre for Law, Technology and Society and Faculty of Engineering, University of Ottawa
Details and registration for the whole conference, in-person or online (October 26-28, 2022)
Student Fee*: $75/3 days + networking cocktails & lunches included)
https://ciaj-icaj.ca/en/upcoming-programs/2022-annual-conference/
* Enrolled full-time at Canadian universities
Contact
For further information, please contact the Program Coordinator, Mary Plagakis
Tel.: 514-731-2855
Email: mary.plagakis@ciaj-icaj.ca