2021 Annual Conference Free Student Panel | Online, Registration Required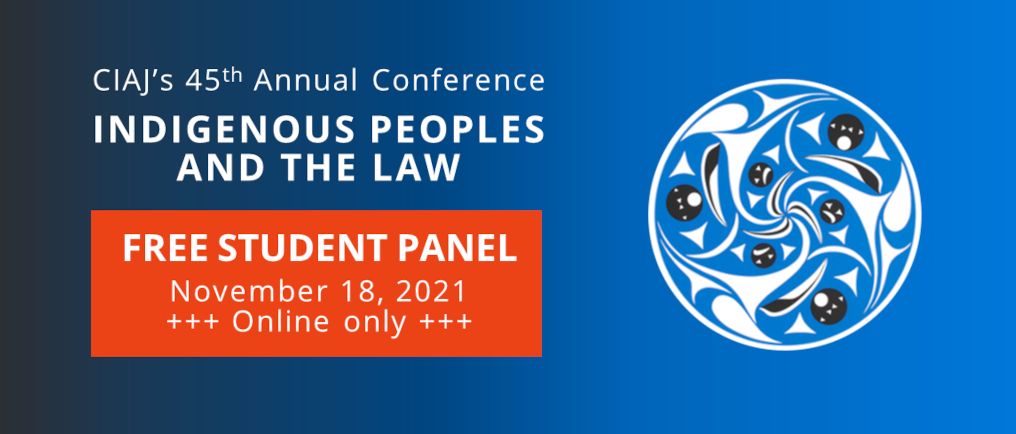 Date: November 18, 2021
Price per person: Free Student Panel
Location: Online
Registration is now closed. Thank you.
Note: Panels will be available for purchase shortly after the conference here.Two videos are already available for free: Tenzin Butsang's presentation of her winning project (CIAJ's Charles D. Gonthier Research Fellowship) and Michelle Pucci's presentation of her winning essay (CIAJ's Christine Huglo Robertson Essay Prize).
Bilingual program with simultaneous interpretation
Overview
Every year, CIAJ includes a free panel specially designed for law students in its flagship Annual Conference. Read more on the whole Conference on Indigenous Peoples and the Law on the event page.
Free* Student Panel (Panel Four) | November 18, 2021, 10:45 am – Noon (Pacific Time Zone)
Keywords: cultural competency, cross-cultural training, Indigenous perspectives on education, place of Indigenous la in law school curriculum ,Indigenous expertise and authority
Panel Chair
Mark Gervin, Lawyer; Director of the Indigenous Legal Clinic, Peter A. Allard School of Law, University of British Columbia
Speakers
Jamie-Lee Keith, student, Thompson Rivers University Faculty of law
Shayla Praud, student, University of Victoria Faculty of law
Verukah Poirier, student, Peter A. Allard School of Law, University of British Columbia
Cassandra Sawers, student, Peter A. Allard School of Law, University of British Columbia
Justin Thompson, student, Osgoode Hall Law School, York University
Details and registration for the whole conference, in-person or online (Nov. 17-19, 2021)
Student Fee*: $75/3 days + networking cocktails & lunches included)
https://ciaj-icaj.ca/en/upcoming-programs/2021-annual-conference/
* Enrolled full-time at Canadian universities
Contact
For further information, please contact the Program Coordinator, Mary Plagakis
Tel.: 514-731-2855
Email: mary.plagakis@ciaj-icaj.ca