Meet our Board of Directors: Professor Bradford Morse
Wednesday, December 8, 2021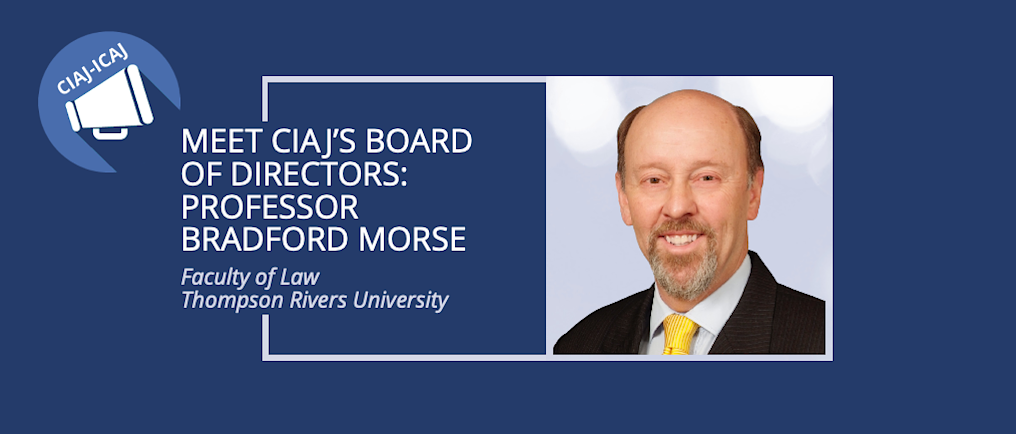 Committed to promoting sound administration of justice since 1974, CIAJ prides itself on supporting the legal community at all levels. CIAJ would like to warmly thank its board members for sharing their skills and working to improve the justice system with heart and wisdom for the benefit of society as a whole. CIAJ's actions and programs would not be possible without the dedication of these outstanding professionals.
What does CIAJ mean to you? 
CIAJ is an organization that I've always admired as it really is the only association in Canada that brings together all members of the legal community, even more so than the CBA [Canadian Bar Association], as it includes members of the judiciary as well as non-lawyers interested in the administration of justice in Canada as active participants as well as lawyers, law professors and law students.
I've been an elected Board Member since 2017 and currently serving on its Educational and Research Committee, Strategic Planning Committee, Finance and Audit Committee and its Governance Committee. My most significant contributions have been through its committees and my role in helping to plan the 2021 Annual Conference on Indigenous Peoples and Law.
Why is it important for you to be active and involved outside your job?
As an academic, I enjoy a wonderful position in which I teach a constantly changing collection of extremely bright, motivated law students that reflect the Canadian mosaic of today, who overwhelmingly want to improve the quality and fairness of our justice system – beginning as students through legal clinics and Pro Bono Students Canada that is changing the nature and personality of our profession. In addition to pursue research topics of interest to me that I believe are important to the public, I also have the opportunity to contribute to improving the lives of Canadians through volunteering in non-profits and charities.
What do you like the most about your job?
The opportunity to interact on a daily basis with wonderful, intelligent and very diverse students, colleagues and members of the legal profession.
Is there a cause you feel strongly about?
I have had the extremely good fortune of continually receiving opportunities, starting from my law student days at UBC, of being invited to work on broad spectrum of Indigenous rights issues, from child welfare to land claims, constitutional reform, justice systems, urban issues, Metis rights, and many more through so many different roles for over 40 years.
Do you think that justice evolves with society? Faster/slower?
Societies can and do change their perception of what is just [in the sense of fairness] and what is justice. In my lifetime I have witnessed incredible moves to eliminate racism and discrimination toward women, BIPOCs (Black, indigenous and people of color) the disabled, the elderly, immigrants, adherents to Judaism and Islam, and members of the LGBTQ2S+ community, with many members of the latter only becoming protected within the last few years. The goal of treating all peoples equally, without that being restricted to identical treatment, has been a major leap forward in Canada. We are moving forward far more quickly than was the case even a decade ago. Nevertheless, the process is not as quick as is needed nor is it uniform or enduring. We are witnessing major rollbacks in the USA seeking to disentitle people from being able to vote outside of common working hours while many states are trying to remove voting rights entirely from large number of people whose only 'crime' has been they did not vote for Republican candidates. These rollbacks are occurring very rapidly indeed. The changes in the US over the last year should make clear to us that improving our justice system and treating all peoples with dignity can occur quickly where there is political and bureaucratic commitment to make it happen, but it can also be reversed even more rapidly.
What was the last social or legal issue that made a strong impression on you?
For me it has been the profound and incredibly positive change in the attitudes of the vast majority of Canadians about the horrendous history and genocidal policies of Indian Residential Schools committed in our name by the Government of Canada and the religious organizations that managed those schools. While so many Canadians now say that they had no idea of what was going on in those schools, this information was readily available yet ignored. That blissful ignorance has been shattered at its core such that we now have to find a new path forward as a country. While the Truth and Reconciliation Commission had a monumental impact, further buttressed by the Missing & Murdered Women and Girls Inquiry, yet our provincial and federal Ministers have managed to say many of the right sounding things about committing to implement the recommendations of both Commissions, but real action by the bureaucracies have been painfully slow or non-existent.
What do you think about the Internet exposure of legal cases?
I believe there is a clear distinction between televising trials and hearings of appellate courts, which I fully favour, and social media weighing in where individuals with no idea what the law even is or the legal issues at stake may be can voice opinions without any consideration as to what is really going on and what impacts may flow from their comments. Watching Judge Judy and other equivalent TV shows have been with us for decades, but at least they had some foundation in the law. Facebook comments can be biased and destructive, as we are witnessing in the advocacy against vaccinations, promoting Islamophobia, etc. The internet can dramatically facilitate achieving justice at a much lower cost to litigants and eliminating travel through well-grounded, well-run initiatives, such as, e.g., the BC Civil Resolution Tribunal.
Are you active on social media? If so, how? Do you think they promote access to justice for all?
I do have Facebook, LinkedIn, Twitter and Instagram accounts, with more use of the 1st 2 over the latter 2. I use them to share info & communicate with people I know. I do not think they currently promote "access to justice for all" or even for many people.
Do you have a reference/influence/model in this field? Why?
If by this you mean Indigenous rights, then it would include Professor Michael Jackson at UBC Law (from whom I took my 1st Native Rights course in 1974), Chief Joe Mathias [who was my classmate & friend at UBC], Georges Erasmus, Phil Fontaine, Murray Sinclair, and many others.
What is the greatest challenge you have faced along the way?
Learning to say NO & what my limitations are.
When you chose to study law, were you thinking of pursuing a career as a professor?
No. I was intending to be a lawyer active in family and child welfare fighting for the best interests of children and women actually getting the income and child support promised to them by court orders but often never received.
What else would you have liked to do if you had not become a professor?
Be a F/T social change activist.
What do you do in your free time, do you have a hobby?
I used to play tennis, squash & golf but only golf is left & I haven't even played that in 3 years. So I guess it is down to watching TV & movies at the end of a long day.
Is there a message you would like to pass on to the new generation of professors?
This is an absolutely tremendous career as you interact with very intelligent students and colleagues, can have positive impacts on many of both, you are always learning as you really want to be an expert but also ready to answer as many interesting Qs as you can that students throw at you – and come back with answers if you didn't know them when first asked. You can spend much of your time researching and writing on topics of your choice about which you are hopefully fascinated and excited, and can share that knowledge in ways that increase human understanding. And you get paid for this. It's a little bit like being a kid in a toy store & told you can pick out whatever you want.
---
About Professor Bradford Morse
CIAJ Board of Directors Member since 2017
Professor of Law at Thompson Rivers University in Kamloops, British Columbia, Canada; Honorary Professor of Law at Te Piringa – Faculty of Law, University of Waikato, New Zealand; Professor Emeritus, University of Ottawa, Faculty of Law, Common Law Section; Adjunct Professor of Beijing Jiaotong University; and Adjunct Professor at the University of Münster, Faculty of Law, Germany
Professor Morse was Dean of Law at the Faculty of Law, Thompson Rivers University, from 2015-2019, after serving as Dean and Professor of Law from September 2009 until December 2014 at the University of Waikato, New Zealand. He remains as an Honorary Professor of Law at Te Piringa – Morse is Professor Emeritus and was previously Professor of Law, at the University of Ottawa where he served in the past as Vice-Dean and Director of Graduate Studies. He was Executive Director of the Native Legal Task Force of British Columbia; Research Director of the Aboriginal Justice Inquiry of Manitoba; and Chief of Staff to the Hon. Ronald A. Irwin, O.C., Canadian Minister of Indian Affairs and Northern Development. He has served as legal advisor to many First Nations in Canada as well as national and regional Aboriginal organizations. He was General Counsel to the Native Council of Canada. He was previously advising the Association of Iroquois and Allied Indians during the development of the Canadian Constitution Act 1982. Brad has been a visiting scholar to a number of law schools across the world over his career. He has authored over 100 articles, books, book chapters and commission reports. He has also been a member of editorial boards for 5 different journals; Director of the Council of Legal Education of New Zealand; Continuing Legal Education Society of BC; the Vancouver International Arbitration Centre; Centre for Seniors Information, Kamloops; Member of the Federation of Law Societies of Canada's National Committee on Accreditation and its Appeal Panel. He has been on the Board of the CIAJ since 2017.