Meet our Board of Directors: Adam O. Letourneau, K.C.
Wednesday, December 1, 2021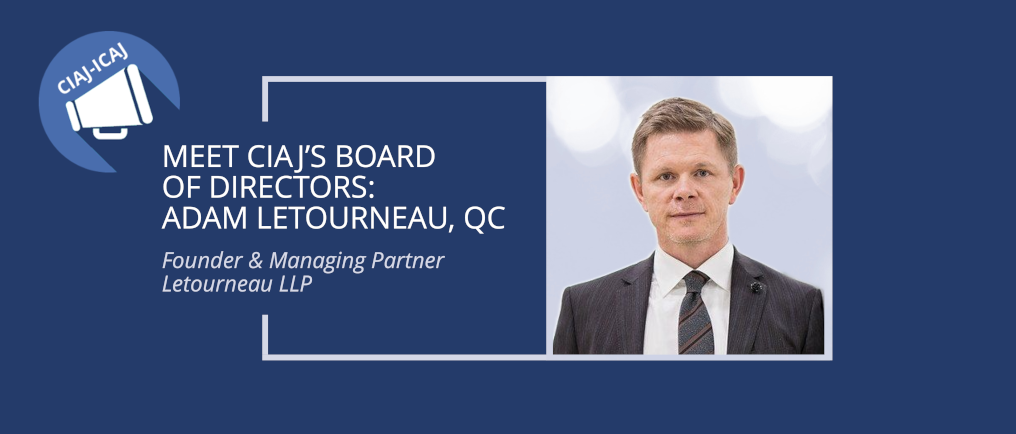 Committed to promoting sound administration of justice since 1974, CIAJ prides itself on supporting the legal community at all levels. CIAJ would like to warmly thank its board members for sharing their skills and working to improve the justice system with heart and wisdom for the benefit of society as a whole. CIAJ's actions and programs would not be possible without the dedication of these outstanding professionals.
What does CIAJ mean to you? 
I began my involvement with CIAJ through the Circle of Indigenous Peoples and Mediation committees, and I became more interested in the activities and education efforts of CIAJ. As a Métis lawyer, I was excited to learn that the organization was planning a conference on Indigenous Peoples and the Law. I was delighted to be invited to the Board in 2019, and have enjoyed helping to plan that particular conference and then to attend the conference in 2021. I greatly appreciated attending the previous conference in 2019 on The Impact of Artificial Intelligence and Social Media on Legal Institutions, as it opened my mind as a lawyer to new issues and considerations I hadn't thought of before.
Why is it important for you to be active and involved outside your job?
As a professional, I love volunteering – with things my children are involved in, and also on various Boards, as I can lend my ideas and my professional and personal experience to great projects that have personal meaning to me. I also love teaching as an adjunct professor. Teaching about something that is interesting and important to me – law – is very gratifying. I really enjoy helping others to become interested in the law, the Rule of Law, and how law impacts almost every aspect of our everyday lives.
What do you like the most about your job?
I love the variety of the law. Each case that I help with as a lawyer brings interesting twists and turns. If you like solving problems, as I do, it is a very gratifying profession. I also love teaching others, as I have said. There is no better feeling than helping someone through a difficult situation.
Is there a cause you feel strongly about?
I believe in access to justice – for Indigenous Peoples and also for people of limited means or opportunities. I would like to see improvements in this area.
What else would you have liked to do if you had not become a lawyer or a professor?
I likely would have strongly considered medicine, as I love helping people and serving people.
What do you do in your free time, do you have a hobby?
I have many hobbies, and like to keep quite busy. I spend a lot of time with my five children and my wife, and our dogs. I like to hike, bike, read, write, play guitar, snowboard, skateboard, ride motorcycles and travel. All of these things help me to be a happier lawyer.
If you could talk to yourself when you were 20 years old what would you say?
Life is a series of amazing opportunities, if you will open yourself up to them, and if you will cast off self-doubt.
---
About Adam O. Letourneau, K.C.
CIAJ Board of Directors Member since 2019
Founder and Managing Partner at Letourneau LLP (Lawyer, Arbitrator, Mediator)
Adam Letourneau is founder and managing partner at Letourneau LLP (Lawyer, Arbitrator, Mediator). Adam's practice is focused on family law, arbitration, and mediation. Adam is a Chartered Arbitrator and Chartered Mediator through the ADR Institute of Canada. Adam received a Juris Doctor (JD) degree from the University of Alberta. He was awarded a Master of Laws (LLM) degree specializing in International Dispute Resolution from UCL (University College London) and Queen Mary University of London, England. Adam is an Adjunct Associate Professor at the Dhillon School of Business at the University of Lethbridge, teaching Employment and Labour Law, The Art of Negotiation, as well as Business Law at various times. Adam Letourneau was appointed as Queen's Counsel (QC) in 2015. Adam is currently a Board Director of the Canadian Institute for the Administration of Justice, for Volunteer Lethbridge and for Ninebar Foundation. Adam was elected as Bencher of the Law Society of Alberta with two terms — in 2011 and then from 2014-2018. He has served on the Board of Directors of Legal Aid Alberta. Adam is the former Chairman of Rupertsland Institute and the former Chairman of Apeetogosan (Métis) Development Inc., an aboriginal financial institution. Adam is a citizen of the Métis Nation of Alberta. Adam Letourneau has been a CIAJ Board member since 2019.