CIAJ Comment on the AFNQL Action Plan on Racism and Discrimination
Wednesday, October 14, 2020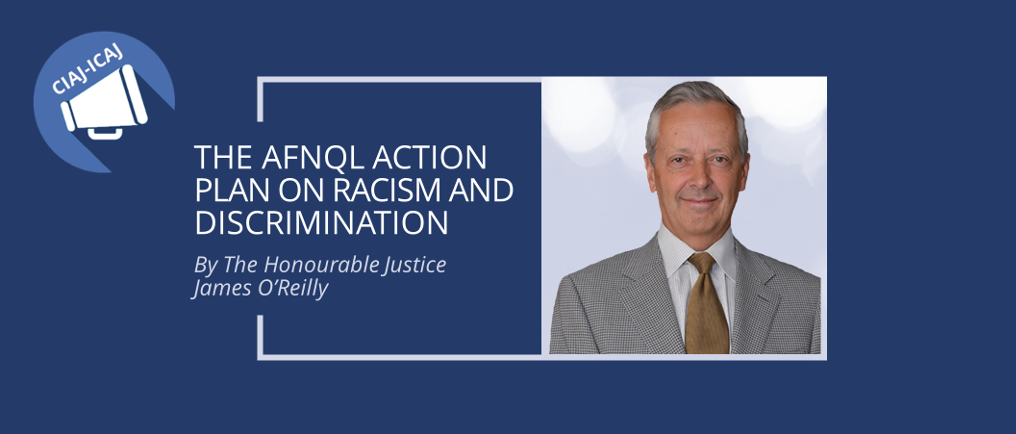 On September 29th, 2020, the Assembly of First Nations Quebec-Labrador unveiled the "AFNQL Action Plan on Racism and Discrimination". The Action Plan provides examples of concrete steps that various actors in Quebec society can take to advance reconciliation.
The document supports a holistic and collective approach to end racism and discrimination against Indigenous People in the province by calling upon Quebec's populace itself to achieve change independently of any provincial or federal action. The variety of actors the AFNQL seeks to reach out to are divided into seven groups: individual citizens, organizations and institutions such as civil society groups and universities, municipalities, police and justice services, and businesses.
The Action Plan details both immediate and long-term actions members of these groups can take. The suggested actions are drawn from the Calls to Action of the Truth and Reconciliation Commission (TRC) and the Calls to Justice of the National Inquiry into Murdered and Missing Indigenous Women and Girls (NIMMIWG), as well as the recommendations of the Public Inquiry Commission on relations between Indigenous Peoples and certain public services in Québec: listening, reconciliation and progress (CERP).
With the release of the Action Plan the Canadian Institute for the Administration of Justice (CIAJ) can consider how it, too, can do its part. It is one of CIAJ's ongoing missions to strengthen its ties with Indigenous communities as it has done with various courts, administrative tribunals, and universities, as well as provincial and federal ministries across the country. But to know where to go, one must take stock of what has been done before, and what is being done now.
Over the last five years, CIAJ has undertaken a series of projects to strengthen its own connection to Indigenous leadership and communities. These include CIAJ's 2015 annual conference "Aboriginal Peoples and Law" that followed on the heels of the TRC's final report. In 2018 we began our work on the representation of Indigenous people on criminal juries with a series of 4 provincial roundtables in British Columbia, Alberta, Manitoba and Atlantic Canada, with more to come. CIAJ's 45th Annual Conference on "Indigenous Peoples and the Law" was meant to be held in 2020, a year after the final report of the NIMMIWG. Due to the COVID-19 pandemic, the Conference had to be delayed to 2021.
In collaboration with Courthouse Libraries BC, CIAJ has developed a free series of 6 webinars designed to examine instances of federal and provincial governments' attempts to implement normative changes in accordance with the TRC's demands, as well as those of the NIMMIWG and the Quebec Inquiry. These activities have been organized in collaboration with Indigenous leadership, as well as CIAJ's Circle of Indigenous People, a group of Indigenous lawyers, judges and professors.
CIAJ can still do more. As an organization that provides forums for dialogue and learning among individuals and groups concerned with the administration of justice, CIAJ is in a strong position to take up additional education projects.
The 12th recommendation proposed by the Action Plan fits well with CIAJ's mandate as it calls on organizations to:
Provide training developed in cooperation with Indigenous authorities that promotes cultural sensitivity, cultural competence, and cultural safeguards to all public service managers, professionals and employees who are likely to interact with Indigenous peoples. Out of respect for the cultural diversity of Indigenous nations, this training must be adapted to the specific Indigenous nation(s) with which the employees interact. (CERP #25-26-75) (NIMMIWG #17.8, 18.8, 18.9)
CIAJ already has in place many programs and is well experienced in multi-disciplinary collaboration for the purposes of training jurists, whether members of the judiciary, tribunal members, lawyers or law professors. A specialized cultural education project undertaken by CIAJ could extend to working in collaboration with Indigenous legal experts to provide training on Indigenous laws, legal practices, and Indigenous jurisdiction in Canada. Such a project would fit well with our ongoing efforts – for example, our roundtables on jury representation, where understanding the practices of Indigenous communities is critical to meaningful engagement with those communities over jury service.
As an organization that seeks to foster dialogue to better the administration of justice in Canada, CIAJ welcomes the invitation and the chance to extend its services to strengthen Indigenous communities. We encourage members of the public and other organizations to embrace and further the AFNQL Action Plan.