Law and Happiness: Challenges and Opportunities to Improving Lawyer and Student Well-Being
Tuesday, September 4, 2018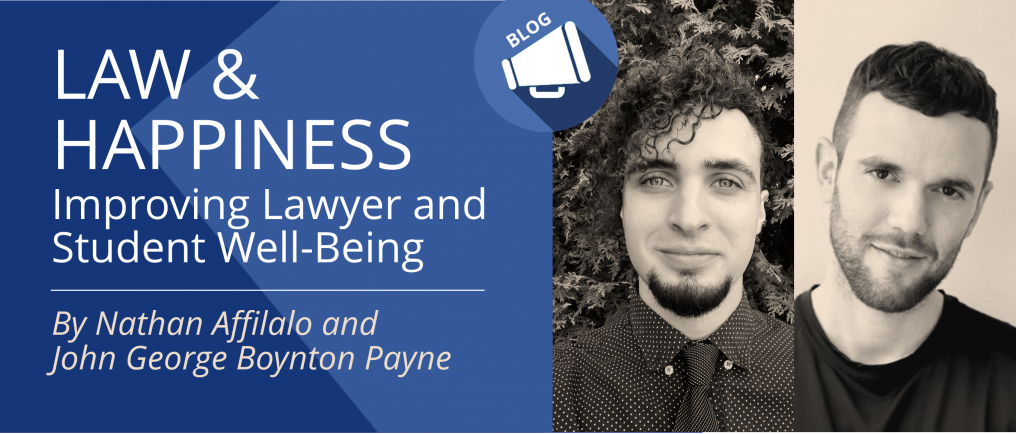 The Canadian Institute for the Administration of Justice (CIAJ) is excited to announce the subject of its 2018 Student Panel: "Law and Happiness: Challenges and Opportunities to Improving Lawyer and Student Well-Being. This free event will take place at the Westin Ottawa on October 19, 2018, from 1 pm to 4 pm, during our 43rd Annual Conference on "Justice and Mental Health." It reflects our commitment to engage students on issues relating to the administration of justice through our Student Section, that we initiated in summer 2017.
The Panel will discuss some of the institutional, workplace and individual stressors that affect the mental health and well-being of law students and lawyers. Research consistently shows that law students and lawyers suffer higher rates of mental distress than the general population and other professionals, including stress, anxiety, depression and substance use problems. Poor well-being is both a personal and institutional challenge that affects the administration of justice. Addressing it will require conscious effort and organizational responses from law faculties, law firms, law societies, and those affected.
CIAJ's goal is to contribute to the ongoing discussion concerning the causes of poor well-being and mental health in the legal profession. CIAJ wants to inform students of the available resources to help them build resilience to ensure successful legal careers. The Panel will give students a role and voice in the discourse on student and lawyer well-being. Students will actively guide and participate in the discussion through their feedback to questions posed throughout the Panel. We will also introduce students to mindfulness-based meditation through a brief exercise to help ground healthy behaviours that students can apply to their studies and eventual legal practice.
The Panel has been designed in partnership with Healthy Legal Minds (HLM), a group of law students and jurists that provide advocacy and evidence-based solutions to address causes of poor mental health and well-being in the legal profession. HLM envisions a profession where law students and legal professionals are equipped with the tools to lead healthy and happy lives, and easily seek help in the face of the challenges of the legal profession.
Our panel consists of Orlando Da Silva, former Ontario Bar Association president and current senior crown counsel at Ontario Ministry of the Attorney General; Jessica Simon, Equity and Wellness Counsellor University of Ottawa Faculty of Law; Nathan Afilalo, law student McGill Faculty of Law; and, Ellen Huang, law student University of Ottawa Faculty of Law. It will be chaired by Shannon Snow, Managing-Director and Co-founder of Healthy Legal Minds.
For more information on our panel please see our brochure and free registration form on CIAJ's website: https://ciaj-icaj.ca/en/membership/student-section/. You are also invited to follow the Student Section Facebook Page: https://www.facebook.com/ciaj.students/
For more information about Healthy Legal Minds, please visit their website at www.healthylegalminds.org. You can also connect with them on Twitter, Facebook, and Instagram.
If you are interested in writing a blog for CIAJ, please contact us at ciaj@ciaj-icaj.ca