41st Annual Conference – Civil Justice and Economics: A Matter of Value
Date: October 5-7, 2016
Price per person: Members: $895 (minus $100 before August 15) – Non-Members: $995 (minus $100 before August 15) – Students: $75 (Enrolled full-time at Canadian universities)
Location: Fairmont Château Laurier, 1 Rideau St, Ottawa, ON
***This event is over. You can watch the videos here and access the documents here.
Press Release issued on Tuesday, September 27, 2016
This program is eligible for up to 12.75 Substantive Hours.
Participation at this conference is approved under Section 41 (1) of the Judges Act according to Resolution # 29 of the CJC and is accredited in provinces where CLE requirements for lawyers are mandatory.

Overview
Most Canadian judges, practitioners and those involved in the administration of justice rarely have the opportunity to consider their work through the lens of law and economics. The premise of this conference is that economic concepts could help us understand the effects of what we do and could help us better assess the effectiveness, both economically and socially, of choices and decisions the actors in the administration of justice make.
Honorary Chair
Justice Thomas A. Cromwell, Supreme Court of Canada
Co-Chairs
Justice Georgina R. Jackson, Court of Appeal for Saskatchewan; CIAJ President
Mr. Patrick A. Molinari, Ad. E., FRSC, Legal Counsel, Lavery, Montreal
Free Student Program – Open to the public
"Impact of Self-Represented Litigants on the Civil Justice System"
Friday, October 7, 2016, from 1:30 to 3:30 p.m.
University of Ottawa, Faculty of Social Sciences (FSS)
120 University Private, Room 4007, 4th Floor
Reservations required prior to October 5, 2016.   Flyer 8.5 x 11 (PDF) Poster 11 x 17 (PDF)
Contact
For further information, please contact the Programs and Membership Coordinator, Mary Plagakis
Tel.: 514-343-6157
Fax: 514-343-6296
Email: mary.plagakis@ciaj-icaj.ca
Partner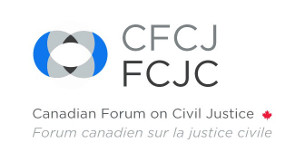 Cancellation: Only registrations cancelled by email at least 7 days prior to the event are reimbursed, except for 10% of the amount which is withheld to cover administrative fees. At any time, a participant may be replaced by another person without charge.