A Summer Internship With a Focus on Innovation and Creativity
Wednesday, November 16, 2022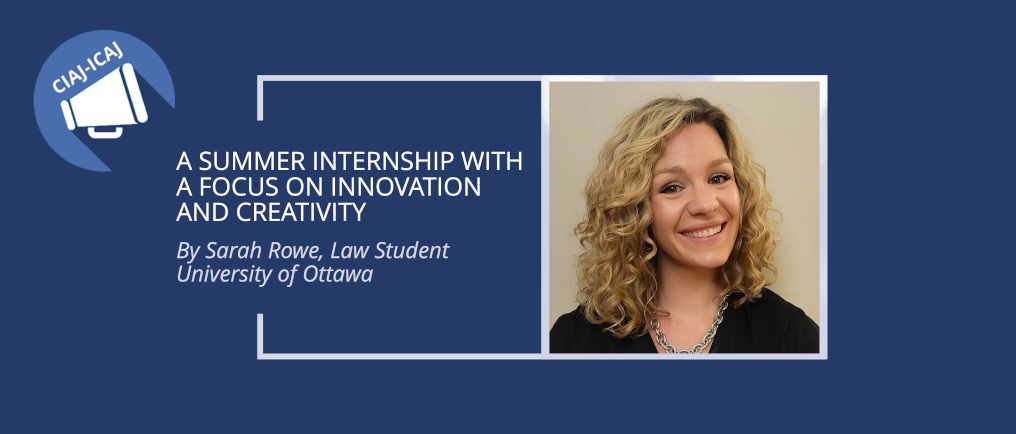 In this blog post, Sarah Rowe shares her thoughts on her experience working at CIAJ during the summer of 2022.
---
My name is Sarah Rowe. I'm a second-year law student at the University of Ottawa, and this summer, I had the pleasure of working with the Canadian Institute for the Administration of Justice. After 1L, I planned to continue my permanent position as one of the weekday evening Head Lifeguards for the City of St. John's, all the while keeping an eye out for remote legal positions; when in June, I discovered a job posting at CIAJ. While I've enjoyed working as a lifeguard and swim instructor for almost 11 years, I felt ready to move on and apply my lifeguarding and supervisory experience to a legal setting and sent in an application.
For the majority of my adolescence, law school felt inevitable. I was the type of kid that adults said would be a lawyer one day because I liked to debate, but my stutter felt like a significant impediment to a legal career. Empowered by the sheer number of fascinating avenues available for my undergrad, I released my law school dream and contemplated Math, Computer Science, Linguistics, Spanish, and even Nutrition before settling on a degree in English and French. I didn't revisit the idea of law school until my work abroad in France. Outside of the small-town mentality of Newfoundland, I was able to shed others' preconceived notions of who I should be and unearth a more authentic conception of self. While my stutter isn't gone, my perception of professionalism has shifted. I used to believe that my naturally curly hair was messy, or that I couldn't be a lawyer because I had tattoos and piercings; however, my legal experiences over the past year have taught me that professionalism contains multitudes, and success is only dependent on one's desire to achieve.
As a legal professional, I endeavour to effect positive change however I can; the progressive atmosphere at CIAJ is exactly the type of legal experience I have been seeking. Along with law students, Kelsey Leik and Troy Glover, I dove head-first into topical social justice research, focusing on the right to dignity, restorative justice services for Indigenous Peoples, and the potential for technology to positively impact access to justice. Although the work was remote, our weekly meetings allowed me to connect with Kelsey and Troy and learn from their advanced law school experience. Throughout the summer, our supervisor, Nathan Afilalo encouraged ingenuity, inviting us to think outside the box. No suggestion was ever dismissed. Early on, I proposed two podcast ideas, and we immediately began to develop them into full-fledged episodes. Furthermore, reaching out to possible podcast speakers has allowed me to connect with professionals working in the fields that I find most interesting. I've felt a sense of camaraderie and open-mindedness at CIAJ since the end of my interview when Nathan asked me my favourite instrument to play. While I was taken aback, the interview ended on a more personal note, which truly describes the welcoming and supportive experience I've had this summer.
I would recommend this opportunity to all law students, fresh or seasoned. Although this summer was busy, the workload was not insurmountable, and the approachable leadership created a stress-free environment where I gained practical legal experience while researching novel legal issues currently in the global consciousness. CIAJ is a leader in improving access to justice and encouraging diversity in the legal field, and I am honoured to have been able to contribute to their work.
---
Learn more about CIAJ's activities for law students: https://ciaj-icaj.ca/en/membership/student-section/
Are you interested in contributing to the work of CIAJ? Contact us! https://ciaj-icaj.ca/en/our-network/working-at-ciaj/