Caring for Older People
Wednesday, October 5, 2022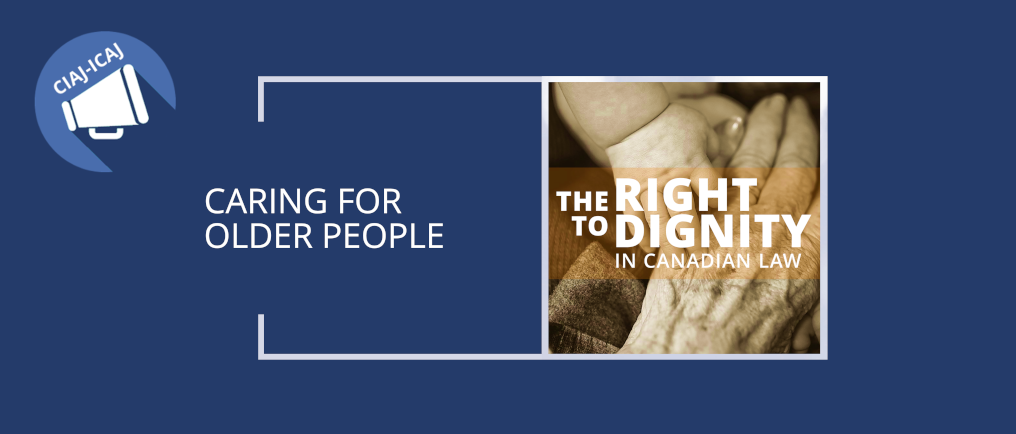 How can we make it possible for everyone to live with honour, dignity, and respect until the end-of-life? How can we build communities to promote and protect autonomy, foster confidence, and facilitate independence instead of amplifying risk and magnifying vulnerabilities? Such questions go to the heart of the discussion about the rights of older adults in Canada.
While aging is universal, the experience of is not. The use of age as a representation of an older adult's ability to function in society is artificial and misleading. Despite this, many myths of older adults permeate Canadian culture. The stereotypes, prejudices, and discrimination faced by a person based on their age is captured by the term ageism. Globally, ageism has led to neglectful and abusive treatment of older adults and a failure to consider their unique psychological and emotional needs. In 2015, 8.2% of healthy, independent older adults worldwide reported to have been mistreated, which does not account for the many cases that go unreported due to shame and embarrassment.
However, the COVID-19 pandemic illuminated far too well the depth of the mistreatment of older adults. In Canada 80% of all reported deaths related to the virus occurred in long-term care homes (LTC). While the Canada Health Act covers "medically necessary" hospital and physician services, LTC is not publicly insured resulting in a lack of consistency in coverage across the provinces and territories. Those with cognitive impairments or dementia were further affected, as they were unable to understand the added protective barrier of covered faces and muffled voices. Furthermore, the pandemic perpetuated elder abuse through ageist "jokes" on social media, suggesting that COVID-19 exclusively affected older adults and implying their lives to be less valuable. Moreover, coupled older adults experience a lower quality of life in LTC, as residents are routinely separated from their healthier spouse, who then has to commute daily to see the person with whom they chose to spend their life. The added stress takes a toll on both partners' emotional health, accelerating their deterioration and forcing them to live in involuntary separation.
This is to say, ageism has a real cost on the individual and systemic level. The prejudice, as is all prejudice, is perplexing. Aging is universal and how a society thinks about aging tells its members how they will be supported as they age.
Therefore, new narratives are required. Let's not discuss old age and aging as merely preparation for the end-of-life, but rather as modes of living, loving, and contributing individuals. Let's involve people in the project of their lives through an entire lifecycle considering how that person may change, be it in health or in fortune. Let's build systems of care where the autonomy, dignity and decision-making of an individual are prioritized, and which older people actually want. This includes increasing and distributing resources from acute and critical care to long-term care. This includes support for caregivers who can honour what older adults want.
This topic and many more will be discussed at CIAJ's 46th Annual Conference on "The Right to Dignity in Canadian Law," which will take place October 26–28, 2022 in person in Halifax, NS, and Online.
Some seasoned panellists will be offering their expertise and personal experience on Panel 8, which will focus on dignity in aging :
Panel Chair
Speakers
Dr. Nathan Stall, MD, Ph.D., Geriatrician, Sinai Health, Toronto
Ann Soden, Ad. E., Executive Director, Elder Law Clinic & National Institute of Law, Policy and Aging
Nora Spinks, Founder, President & CEO, Work-Life Harmony Enterprises
Panel 8 keywords: elder abuse, neglect and exploitation, age discrimination, housing and care facilitation regulations, changes post first wave of COVID-19 and ongoing issues, consent, mental capacity and decisionmaking free from undue influence, guardianship and court appointed substitute decision-making.
More blog posts on dignity are available on this page: https://ciaj-icaj.ca/en/blog/
---
Conference Overview
CIAJ's 46th Annual Conference, entitled "The Right to Dignity in Canadian Law," will discuss dignity as a fundamental human right. The conference will cover the many facets of the concept of dignity, from moral and philosophical notions to its uses as a legal norm. Discussion of the topic will be grounded in eminently pertinent issues such as the role of dignity in gender identity and reproductive rights, as well as medical assistance in dying, elder care, disability, and equality rights. The role of dignity will also be discussed in the context of the Canadian criminal justice and carceral systems, particularly with regards to Indigenous Peoples, restorative justice, the United Nations Declaration on the Rights of Indigenous Peoples, and reconciliation.