Meet our Board of Directors: Miray Granovsky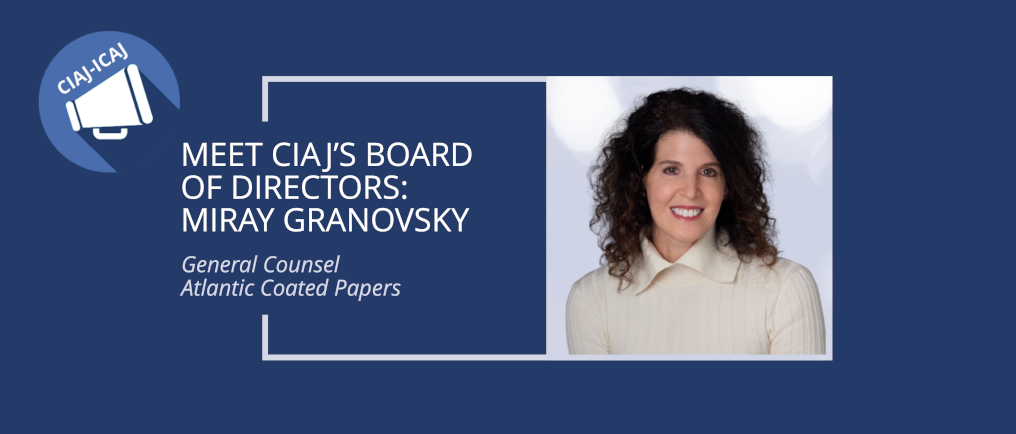 Committed to promoting sound administration of justice since 1974, CIAJ prides itself on supporting the legal community at all levels. CIAJ would like to warmly thank its board members for sharing their skills and working to improve the justice system with heart and wisdom for the benefit of society as a whole. CIAJ's actions and programs would not be possible without the dedication of these outstanding professionals.
What does CIAJ mean to you?
I am thrilled to join CIAJ. I became a member of the Board in November 2021, and I am looking forward to contributing to CIAJ's outstanding work.
Why is it important for you to be active and involved outside your job?
For me, it's important to always continue learning. Law is such a broad discipline, encompassing many areas of our lives and teaching us about the experiences of others. I have always felt that I should use law as a means to discover the concerns and priorities of those I may not be exposed to in my daily life. I can fulfill this goal through my involvement in areas of law outside of my practice that are of interest to me.
Is there a cause you feel strongly about?
I feel strongly about the provision of pro bono legal services and legal aid to those who need it in order to access the justice system. A few years ago, the provision of pro bono services became tenuous due to funding issues at various courts in Toronto. Fortunately, additional funding was found, and pro bono services were continued. I can't imagine the hardship that would result from pro bono legal services closing their doors, and I was relieved when this crisis was averted.
What do you think about the Internet exposure of legal cases?
I think that demystifying the justice system is essential so we can maintain the public's faith in this cornerstone of democratic society. As long as Internet and social media exposure is accurate, unbiased, and balanced with the privacy concerns of participants, I believe it can be beneficial for society to see how the system works and helps people facing legal issues.
Are you active on social media? If so, how? Do you think they promote access to justice for all?
I have social media accounts, but I am not particularly active on them. I do make the occasional appearance in my children's Tik Toks, which I am happy are only for private viewing!
What else would you have liked to do if you had not become a lawyer?
If I was not a lawyer, I would be engaged in another way of helping people and listening to their problems – most likely as a doctor or psychologist.
What do you do in your free time, do you have a hobby?
I like to spend time with my family, travel, and go running. During the pandemic, I learned to love running outside during the winter while we were under lockdown. I discovered that running in below-zero temperatures is exhilarating and leaves you with an incredible sense of accomplishment.
Is there a message you would like to pass on to the new generation of lawyers?
A career in law can satisfy your passions and intellectual curiosity. If you start to practise and can't find an area that really captures your interests, don't give up! Try to learn about different areas of law through continuing education and pro bono work until you find what speaks to you and your passions.
---
About Miray Granovsky
CIAJ Board of Directors Member since November 2021
General Counsel for Atlantic Coated Papers
Miray Granovsky serves as General Counsel for Atlantic Coated Papers and Flexible Packaging Corporation, manufacturers of pharmaceutical, food, and industrial packaging. Miray graduated from Osgoode Hall Law School and has an LL.M. in Alternative Dispute Resolution. She sits as a deputy judge at the Toronto Small Claims Court. Miray has lectured on issues in the Small Claims Court for the Law Society of Ontario. She was a member of the Board and executive committee of the Sport Dispute Resolution Centre of Canada. Miray co-chaired their Annotated Code Project to improve understanding and access to the centre's procedures and prior decisions. Miray was awarded the Queen Elizabeth II Diamond Jubilee Medal for her work. Miray served as a member of the Ontario Special Education Tribunal. She has volunteered with Pro Bono Law Ontario, where she represented families with rights-based complaints against their local school boards. Miray chaired and spoke at the Friends of Simon Wiesenthal Center's Freedom Day, an event to celebrate democracy, tolerance, and equality attended by over 1500 middle school and high school students. Miray chairs the planning committee of the Grand Slam Pro Am, a charity tennis event held annually to support communities in need both local and abroad. Miray Granovsky has been on the Board of CIAJ since 2021.