Meet our Board of Directors: Jennifer Cox, K.C.
Wednesday, February 16, 2022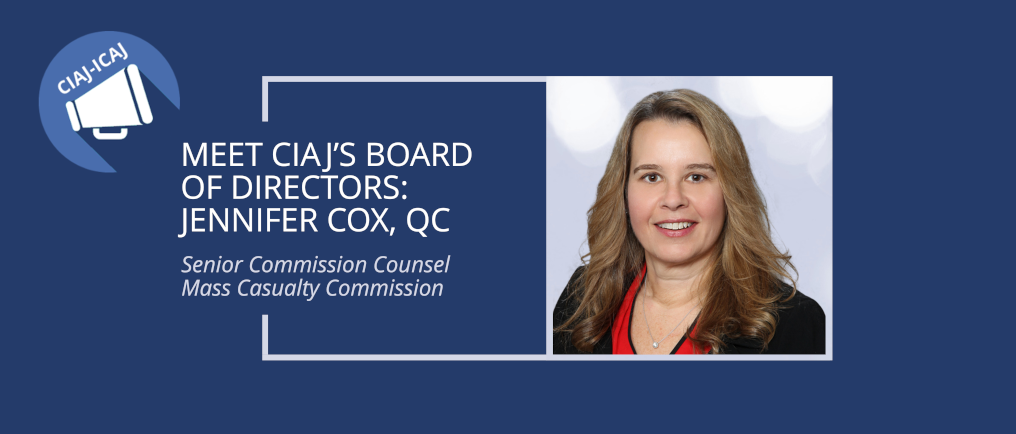 Committed to promoting sound administration of justice since 1974, CIAJ prides itself on supporting the legal community at all levels. CIAJ would like to warmly thank its board members for sharing their skills and working to improve the justice system with heart and wisdom for the benefit of society as a whole. CIAJ's actions and programs would not be possible without the dedication of these outstanding professionals.
What does CIAJ mean to you?
CIAJ has provided me with an opportunity to learn, to share my perspectives from an Indigenous lens and also to develop many new relationships.
How long have you been a member of the CIAJ board of directors?
I was elected to the board in November 2021.
What is the most important event you have participated in with CIAJ?
Everything I have participated in with CIAJ has been important to me as every time I have participated in a CIAJ event, I have been able to give a voice to Indigenous legal issues and I have felt a genuine interest in the perspectives I raise.
Why is it important for you to be active and involved outside your job?
I have volunteered my time to try to improve the lives of Indigenous people and increase their access to Justice. It has been my experience as an Indigenous lawyer that the perspective of Indigenous people is often missing or completely misunderstood. I have been lucky to have the experiences and opportunities I have had, and I feel an obligation to give back to my community by providing education sessions, creating or fostering relationships and providing whatever support I can provide to those who may benefit from my involvement.
What do you like the most about your job?
My current position is Senior Commission Counsel for the Mass Casualty Commission. I was born and raised in Truro [Nova Scotia], and I experienced this tragedy as a resident of the Truro area. I describe this experience as feeling like 9/11. I took this position as I felt a sense of duty to my community to share my public inquiry expertise and also to try to give a local voice to the Commission.
Is there a cause you feel strongly about?
I feel very strongly about approaching matters in a pragmatic way, with honesty and treating others with dignity. I like to see things through to find creative solutions and I rarely take no for an answer. There are many different issues people face as they interact with the Justice system and thinking about the big picture is important to me.
Do you think that justice evolves with society? Faster/slower?
Justice can be contemporaneous with society and also be too slow. Justice is somewhat dependent on Political will, the way in which matters can appear before the courts (the facts) and the ability of those impacted to seek the remedies in the Judicial System. I do think sometimes we overcomplicate things and do not think outside of the box enough.
What was the last social or legal issue that made a strong impression on you?
The area of Indigenous child welfare is the area I have the most recent experience with. I have always been passionate about Family law as a mother, and I have always had a particular affinity for child welfare matters. I am also very motivated to work in a collaborative manner as a lawyer to try to minimize any further harm to people who are already hurting. I have utilized a lot of collaborative practices with my child welfare cases in Nova Scotia and have tried very hard to find solutions outside of a courtroom. I also worked very hard to include an Indigenous voice in the child welfare legislation at both the provincial and federal levels.
What do you think about the Internet exposure of legal cases?
This can be good and bad. Knowledge of the law is always helpful if the rules are accurately portrayed. Learning the law and how to apply it, takes many years and sometimes, this is missing from the discussion. It is good to have debates to understand different perspectives, but they should be measured and respectful to be mindful of when relationships can be destroyed by polarized discussions. Teaching people to agree to disagree and to be respectful of others is something the internet should consider.
Are you active on social media?
No, I do not have any social media.
What is the greatest challenge you have faced along the way?
My greatest challenge along my legal career was to balance my responsibilities of being a mother with my career as a lawyer. It was very, very difficult to balance this and it was impossible to find a solution to strike a healthy balance when my children were young as it was not considered possible to work less than full time. Many times, I wondered if I would need to leave my profession to properly meet the needs of my children and my life often felt like a house of cards. It is my hope that the profession will create more flexible options for parents.
When you chose to study law, were you thinking of pursuing a career as a lawyer?
Yes, I always wanted to be a litigator once I decided to pursue a career in law. I knew from a very early age that I had a gift for public speaking and I spent many years on stage performing as part of a band or in solo music events.
What else would you have liked to do if you had not become a lawyer?
A doctor. I did not realize this until I became a parent and had children with serious and chronic health conditions. I have an aptitude for medicine I did not realize I had until I was a mother.
What do you do in your free time, do you have a hobby?
I exercise- run, bike, walk, swim & recently began strength training. I also play tennis, golf, downhill ski, wakeboard, and kneeboard when I get an opportunity. I like to cook and bake and like to be creative in this way by making things such as specialized birthday/special occasion cakes. I play trumpet, flute and recently began learning the guitar. I do needlework crafts and paint. I like to fix things and do many of my household repairs. I just recently became a grandmother.
Is there a message you would like to pass on to the new generation of lawyers? If you could talk to yourself when you were 20 years old what would you say?
Follow your instincts/sense of justice when it comes to how to approach a matter/case. Think about your first impression of a matter when you first learned about it as the chances are, a court will also have the same first impression and prepare yourself with this in mind.
Make time for yourself a mandatory part of your routine at the beginning of your career. Developing a positive self-care routine as a lawyer takes practice and will probably be the hardest thing for you to do. Working 24/7 is an outdated relic of the profession, which wreaks havoc on lawyers and their families. Resist the temptation to do this and intentionally incorporate self-care into your routine.
Be unapologetically curious! – If you do not know or understand something, ask questions and seek guidance. Pretending to know something will never help you succeed.
---
About Jennifer Cox, K.C.
CIAJ Board of Directors Member since November 2021
Senior Commission Counsel for the Mass Casualty Commission
Jennifer Cox is a Mi'kmaq lawyer currently working as Senior Commission Counsel for the Mass Casualty Commission. Jennifer received a Bachelor of Arts Degree in 1991 and Bachelor of Laws in 1994, both from Dalhousie University. Jennifer has been a member of the Nova Scotia Barristers' Society since 1995 and the Law Society of Saskatchewan since 1996. She has spent her nearly 27 year career litigating cases mainly in the areas of family and criminal law in Nova Scotia and Saskatchewan. She has also worked on two Public Inquiries; the Inquiry into the wrongful conviction of David Milgaard and the National Inquiry into Missing and Murdered Indigenous Women and Girls. Jennifer also has extensive experience in the area of child welfare and participated extensively in the legislative process at both the federal and provincial levels. Jennifer is a mom to two adult daughters and recently became a Kiju (grandma). Jennifer Cox, K.C., has been on the Board of CIAJ since 2021.