Meet our Board of Directors: The Honourable Chief Justice Ritu Khullar
Wednesday, January 26, 2022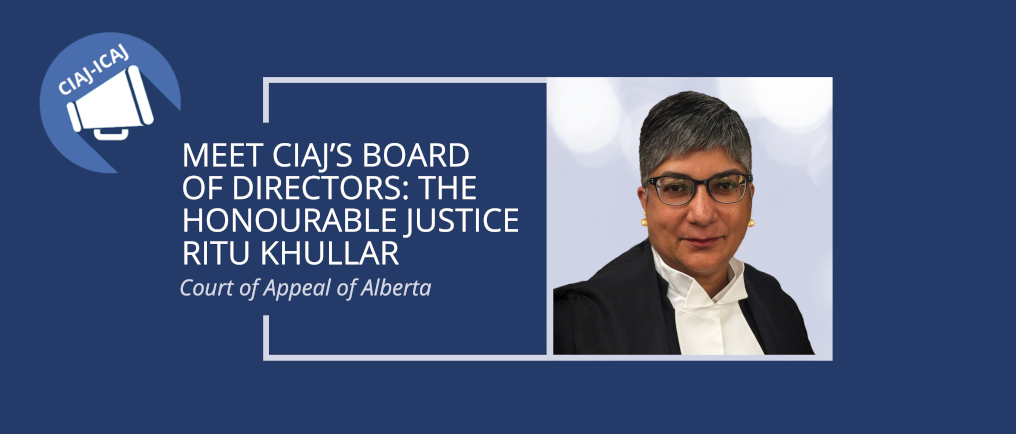 Committed to promoting sound administration of justice since 1974, CIAJ prides itself on supporting the legal community at all levels. CIAJ would like to warmly thank its board members for sharing their skills and working to improve the justice system with heart and wisdom for the benefit of society as a whole. CIAJ's actions and programs would not be possible without the dedication of these outstanding professionals.
NOTE: The Honourable Justice Ritu Khullar stepped down from the Board of Directors in January 2023.
What does CIAJ mean to you?
I have known about the CIAJ for years, but it is only after being appointed to the bench that I have attended courses offered by the CIAJ and have also been fortunate enough to participate as a presenter. I have come to appreciate its unique role CIAJ as a meeting ground for multiple disciplines committed to promoting the administration of justice. I am thrilled to have joined the Board in November 2021.
Why is it important for you to be active and involved outside your job?
I think there are many reasons to be active outside your job including: it is a way to learn and expand horizons, engage in the law in a different context, meet new people, and hopefully to have some fun.
What do you like the most about your job?
This is a hard question as there are so many things I like. It is real privilege to be charged with the responsibility of making decisions in the matters that come to court. I enjoy the intellectual challenges and puzzles that come before the court, and the opportunity to make decisions which enhances the lives of parties.
Is there a cause you feel strongly about?
As a judge I think it is crucial to not lose sight of the real-life impact of the litigation and the decisions we make on the parties.
Do you think that justice evolves with society? Faster/slower?
I think sometimes society leads and sometimes the legal system leads on the journey towards justice. However, it is a complicated, fluid, and non-linear dance.
What was the last social or legal issue that made a strong impression on you?
Since March 2020 and the start of the pandemic, there have been so many fissures exposed in our society. Like so many I have been transfixed and troubled.
What do you think about the Internet exposure of legal cases?
On one hand it enhances access to justice and promotes discussion of important issues in society. On the other hand, discussions on social media do not always lend themselves to addressing issues with intellectual rigor or nuance.
What is the greatest challenge you have faced along the way?
While there have been external challenges in my career, one consistent challenge has been internal: maintaining the strength, confidence, and courage to do stand by my convictions when it is not easy to do so.
When you chose to study law, were you thinking of pursuing a career as a judge?
When I went to law school, I was not even sure I wanted to practice law and had not turned my mind to a career as a judge.
What else would you have liked to do if you had not become a judge?
I would have continued in my practice, which I loved. If I had not become a lawyer, my dream was to be a photojournalist.
What do you do in your free time, do you have a hobby?
Between a full time practice for 25 years, raising a family, and transitioning to the judiciary, I have not had much free time. But I love hiking in the Canadian Rockies and reading spy mystery novels (not at the same time).
---
About The Honourable Chief Justice Ritu Khullar
Former CIAJ Board of Directors Member (from November 2021 to January 2023)
Chief Justice of Alberta.
The Honourable Justice Ritu Khullar is a judge of the Court of Appeal of Alberta. She was born in Fort Vermilion, Alberta, to parents who had emigrated from India. She grew up in the small town of Morinville, Alberta, an experience she says shaped her character. After graduating with an Honours BA from the University of Alberta and a law degree from the University of Toronto, Khullar clerked at the Alberta Court of Appeal and the Alberta Court of Queen's Bench before going into private practice. From 1998 until her appointment to the judiciary, she practised with Chivers Carpenter Lawyers, with a focus on labour and employment, privacy, administrative, human rights, and constitutional law. She also served as managing partner of Chivers Carpenter for eight years. Her legal career has taken her before numerous administrative tribunals and to every level of court in Canada, including the Supreme Court of Canada. She won the 2020 Lifetime Achievement Award (Women In Law Leadership Awards). Justice Khullar was appointed to the Alberta Court of Queen's Bench in Edmonton in March 2017 and to the Court of Appeal of Alberta in March 2018. The Honourable Justice Ritu Khullar served on the Board of CIAJ from 2021 to 2023.