Meet our Board of Directors: Megan Longley, K.C.
Wednesday, January 5, 2022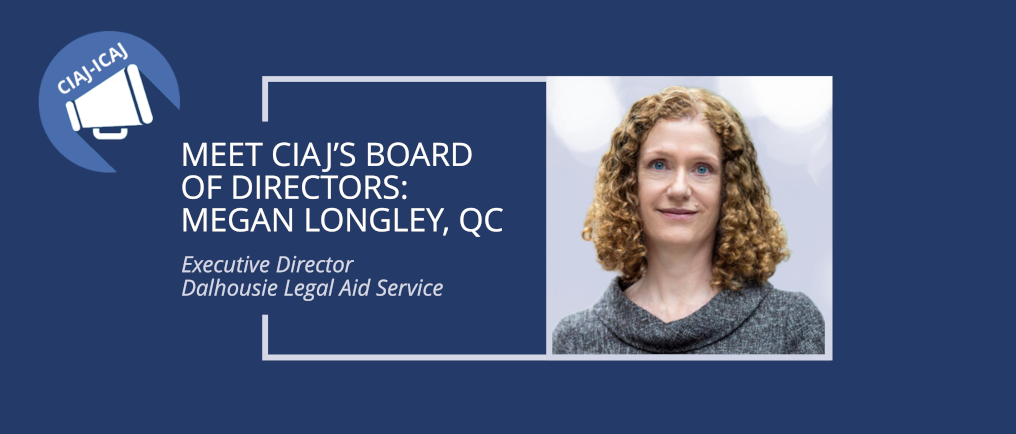 Committed to promoting sound administration of justice since 1974, CIAJ prides itself on supporting the legal community at all levels. CIAJ would like to warmly thank its board members for sharing their skills and working to improve the justice system with heart and wisdom for the benefit of society as a whole. CIAJ's actions and programs would not be possible without the dedication of these outstanding professionals.
What does CIAJ mean to you?
I have just joined the CIAJ Board effective November 2021. I have been a member of CIAJ for several years. The breadth of topics, and the connection between people involved in all aspects of the justice system are really strengths of CIAJ.
Why is it important for you to be active and involved outside your job?
I strongly believe the system works better when people share perspectives, information, and solutions. As a result, I have always tried to engage with both the legal and the broader community to improve justice for everyone, particularly those who have been marginalized and face barriers.
What do you like the most about your job?
In my current position, being able to provide legal aid services to the clients and community, while also engaging with students to help them learn about barriers to justice and how to work with empathy while considering broad systems, not just isolated legal issues is a real privilege.
Is there a cause you feel strongly about?
As a long-time legal aider, I feel deeply passionate about addressing systemic barriers to access to justice. I am also a Board member of the HIV Legal Network, which addresses the legal and human rights issues related to HIV and those impacted by HIV, advocating at both the policy and community levels. The work of this organization is so important, and I am very proud to be associated with the work they do in furtherance of human rights.
What was the last social or legal issue that made a strong impression on you?
As someone who works with low-income people, I am moved by the current national dialogue around homelessness, guaranteed income, and systemic racism in the justice system. These are among the issues intersecting in the lives of my clients, and it is hopeful to see them on the broader public radar.
When you chose to study law, were you thinking of pursuing a career as a lawyer?
I went to law school after doing an undergrad degree in biology. I had not intended to use my degree to practice law. However, in third year law school I spent a term at the Dalhousie Legal Aid Clinic, and it changed my path completely. From that experience I knew I wanted to be a litigator, and to work in a legal aid setting. It is really a full circle moment ending up back at Dalhousie Legal Aid almost 30 years after my time there as a student.
---
About Megan Longley, K.C.
CIAJ Board of Directors Member since November 2021
Executive Director of Dalhousie Legal Aid Service, Dalhousie University – Schulich School of Law
Megan Longley, K.C. joined the Schulich School of Law in the fall of 2021 as Executive Director of Dalhousie Legal Aid Service. Megan graduated from Dalhousie Law School in 1994 and was called to the Nova Scotia Bar in 1995. After a period in private practice, she joined Nova Scotia Legal Aid in 1999. Megan's practice was primarily as criminal defense counsel, in the Youth Court for a good portion of her career. She became manager of Nova Scotia Legal Aid's Youth Justice Office in 2011. In 2015 Megan joined the Executive Office as Service Delivery Director and became Executive Director of Nova Scotia Legal Aid in 2016. Megan is past president of the Nova Scotia Criminal Lawyers' Association, sits on the board of the Canadian HIV/AIDS Legal Network, and also sits on several court and justice committees. Megan has also represented the Association of Legal Aid Plans of Canada on Canada's National Action Committee on Access to Justice. Megan Longley has been a CIAJ Board member since 2021.