Meet our Board of Directors: Professor Kent Roach, CM, FRSC
Wednesday, October 20, 2021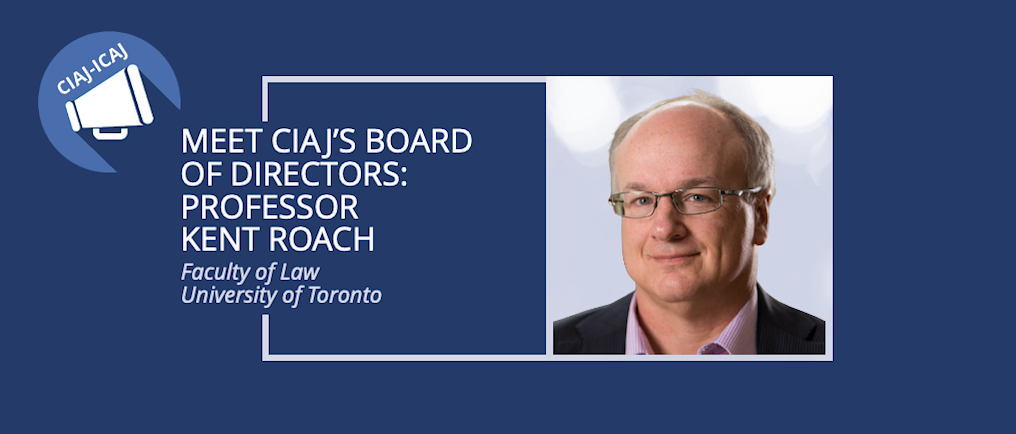 Committed to promoting sound administration of justice since 1974, CIAJ prides itself on supporting the legal community at all levels. CIAJ would like to warmly thank its board members for sharing their skills and working to improve the justice system with heart and wisdom for the benefit of society as a whole. CIAJ's actions and programs would not be possible without the dedication of these outstanding professionals.
What does CIAJ mean to you?
I first was involved with the CIAJ in its conference after 9/11 on terrorism. It has provided an invaluable opportunity for me as an academic to interact with the profession and the judiciary.
Why is it important for you to be active and involved outside your job?
I enjoy participating in continuing legal education with the profession and the judiciary and often find I learn more from such events than perhaps the "students" learn from me.
What do you like the most about your job?
The freedom.
Is there a cause you feel strongly about?
Recognizing and hopefully moving beyond colonial injustice.
Miscarriages of justice.
Do you think that justice evolves with society?
Hard to say given that society seems so polarized today. Sometimes faster than some; sometimes much too slow for victims of injustice and the disadvantaged.
What was the last social or legal issue that made a strong impression on you?
I was heavily involved in the recent abolition of peremptory challenges- I wrote a book about the Gerald Stanley/Colten Boushie case, testified in Parliament and then represented the David Asper Centre for Constitutional Rights in its intervention in Chouhan.
What do you think about the Internet exposure of legal cases?
There is a danger of simplification and polarization. That said I can remember when we had to wait for the first Supreme Court judgments on the Charter to be faxed to the library- so that is an improvement.
Are you active on social media?
No. I am too old and the format is too short.
Do you have a reference/influence/model in this field? Why?
Frank Scott because he got his hands dirty in litigation and had a vibrant life beyond the law. I have also had many great mentors and teachers: Justice Bertha Wilson, Senator Murray Sinclair, Justice Robert Sharpe, Justice Harry LaForme, Professor Marty Friedland…
What is the greatest challenge you have faced along the way?
Keeping work in perspective.
When you chose to study law, were you thinking of pursuing a career as a professor?
Yes, but I made a conscious decision to go to law school instead of grad school because I wanted to be involved in law reform and litigation.
What else would you have liked to do if you had not become a professor?
Maybe a lawyer for the government. Maybe a history professor.
What do you do in your free time, do you have a hobby?
Reading, watching baseball and trashy TV, cycling.
Is there a message you would like to pass on to the new generation of professors? If you could talk to yourself when you were 20 years old what would you say?
Try your best to make things a little thing better but realize that it is going to be difficult.
---
About Professor Kent Roach, CM, FRSC
CIAJ Board of Directors Member since 2018
Professor of Law at the University of Toronto Faculty of Law
Kent Roach is Professor of Law at the University of Toronto Faculty of Law. He is a graduate of the University of Toronto and of Yale, and a former law clerk to Justice Bertha Wilson of the Supreme Court of Canada. He has been editor-in-chief of the Criminal Law Quarterly since 1998. In 2002, he was elected a Fellow of the Royal Society of Canada. In 2013, he was one of four academics awarded a Trudeau Fellowship. In 2015, he was appointed a Member of the Order of Canada. In 2016, named one of the top 25 influential lawyers in Canada (change-maker category) by Canadian Lawyer. He was awarded the Molson Prize for the social sciences and humanities in 2017. He is the author of 15 books, co-editor of 13 collections of essays and 3 casebooks. He has also written over 250 articles and chapters published across the world. Professor Roach has served as research director for the Goudge Inquiry into Pediatric Forensic Patholology and for the Commission of Inquiry into the Investigation of the Bombing of Air India Flight 182. He also served as volume lead for the Truth and Reconciliation Commission's Report on the Legacy of Residential Schools. He has been a member of Canadian Council of Academies expert panels on policing and subsequently on Indigenous policing. He is currently research director for the Independent Civilian Review of Missing Persons Investigations. Professor Roach has won awards for his pro bono work and contributions to civil liberties. He has represented Aboriginal and civil liberties groups in many interventions before the courts. He has been involved with CIAJ since 2001 and a member of its Board since 2018.