Meet our Board of Directors: Athanasios Hadjis
Wednesday, October 6, 2021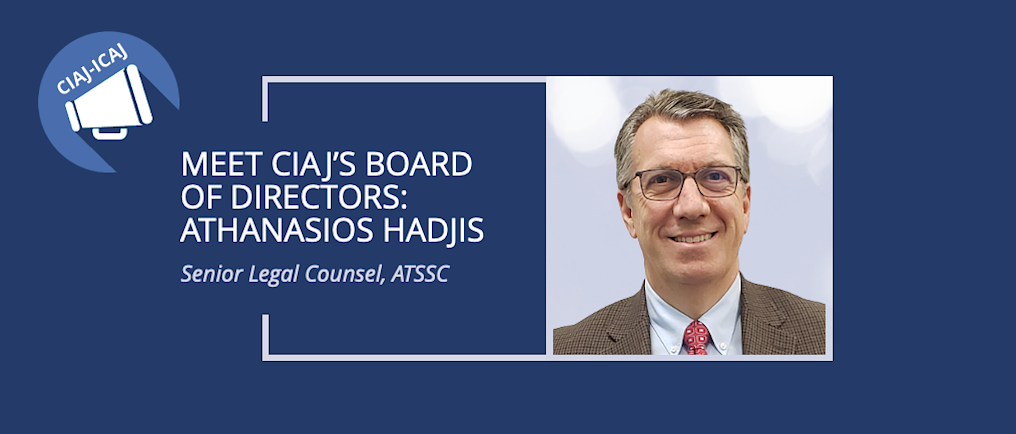 Committed to promoting sound administration of justice since 1974, CIAJ prides itself on supporting the legal community at all levels. CIAJ would like to warmly thank its board members for sharing their skills and working to improve the justice system with heart and wisdom for the benefit of society as a whole. CIAJ's actions and programs would not be possible without the dedication of these outstanding professionals.
NOTE: Athanasios Hadjis stepped down from the Board of Directors in 2022.
What does CIAJ mean to you?
CIAJ is an important organization in Canada because it brings together a wide variety of individuals who are involved and interested in the administration of justice, ranging from members of the judiciary and administrative tribunals to academics and counsel. I have been a member of the Board since 2015. The most important CIAJ event I have participated in is actually a series of events, namely the annual roundtables in administrative law[*], which I have had the privilege to co-chair for many years. The topics dealt with at these roundtables are always fascinating and it never ceases to surprise me how our committee comes up with new and interesting issues to discuss each year.
Why is it important for you to be active and involved outside your job?
I actually think it is part of my job to be active within the legal community, contributing and learning at the same time, particularly in organizations as multifaceted as the CIAJ. It helps to make me a better lawyer.
What do you like the most about your job?
You may think it's weird, but I am an admin law geek. I can enjoy spending hours debating arcane issues about jurisdiction, statutory interpretation, procedural fairness, and the like with colleagues. Totally nerdy, but it is what it is.
Is there a cause you feel strongly about?
My background for almost three decades is in human rights law in Canada, so naturally I feel strongly about all matters relating to the protection of these rights.
What was the last social or legal issue that made a strong impression on you?
I have become quite involved over the last couple of years in the application of the Accessible Canada Act, which came into force in 2019 and has as its objective to create a barrier-free Canada. The Federal Public Sector Labour Relations and Employment Board, which I serve as senior legal counsel, has a mandate under its provisions. This Act is vitally important in ensuring the economic, social and civic participation of all persons in Canada, regardless of their disabilities, and allowing them to fully exercise their rights and responsibilities.
When you chose to study law, were you thinking of pursuing a career as a lawyer?
Yes, but not necessarily in the areas of law where I am now. It just goes to show that one never knows what life has in store for them.
*Upcoming Roundtable: https://ciaj-icaj.ca/en/upcoming-programs/national-roundtable-admin-law-2022/
---
About Athanasios Hadjis
Former CIAJ Board of Directors Member from 2015 to 2022
Senior Legal Counsel for Administrative Tribunals Support Service of Canada
Athanasios Hadjis is senior legal counsel with the Administrative Tribunals Support Service of Canada, serving the Secretariat to the Federal Public Sector Labour Relations and Employment Board (FPSLREB). From 1995 until 2010, Athanasios Hadjis was a part-time and full-time member of the Canadian Human Rights Tribunal (CHRT). He served as the CHRT's Vice-chairperson between 2005 and 2010. During his tenure with the CHRT, Athanasios Hadjis conducted inquiries and wrote decisions with respect to human rights complaints involving discriminatory practices as set out in the Canadian Human Rights Act, ranging from harassment and discrimination in employment to systemic discrimination, pay equity, and hate messages. Athanasios Hadjis received his Bachelor's Degrees in Civil Law (B.C.L.) and Common Law (L.L.B.) from McGill University in 1986. He was called to the Quebec Bar in 1987, and practised law in Montreal. He has been a frequent conference speaker on the topics of decision-writing, public service employment, administrative and human rights law and access to justice issues. Athanasios Hadjis served on CIAJ's Board of Directors from 2015 to 2022.