Meet our Board of Directors: The Honourable Judge Eric J. Tolppanen
Wednesday, September 15, 2021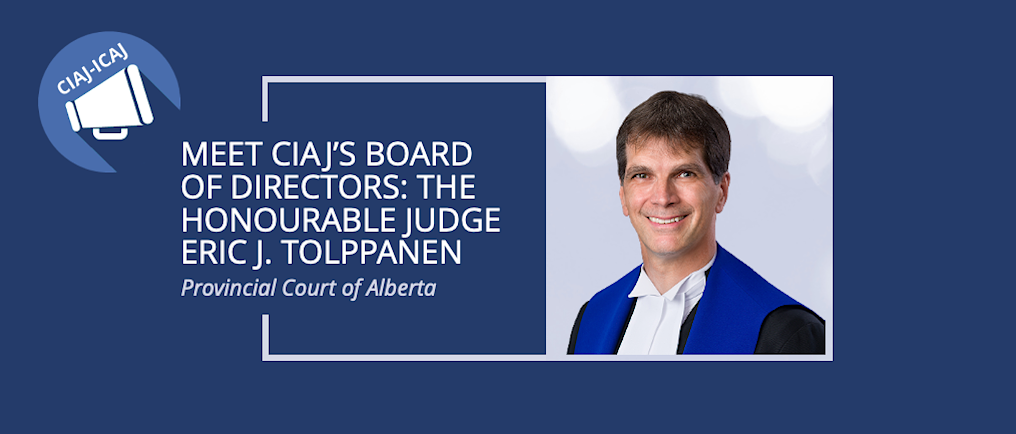 Committed to promoting sound administration of justice since 1974, CIAJ prides itself on supporting the legal community at all levels. CIAJ would like to warmly thank its board members for sharing their skills and working to improve the justice system with heart and wisdom for the benefit of society as a whole. CIAJ's actions and programs would not be possible without the dedication of these outstanding professionals.
What do you like the most about your job?
That's easy. The connection you can make with and impact that a judge can have on those attending the courtroom. I try to never forget that what might be a routine day in a busy docket court is likely one of the most significant days in the life of someone attending the courtroom and is a day they have likely anticipated for many months. It may (hopefully) be their only experience with the criminal justice system, so judges have the opportunity by their conduct to have a lasting positive impact upon the public's impression of the justice system and perhaps even upon the life of an accused person.
Is there a cause you feel strongly about?
Wrongful convictions are a "blight on our justice system" and all criminal justice participants must be ever vigilant to take steps to ensure that such injustices are prevented. I have spent the bulk of my career, from the time I was a trial prosecutor to my current role, mindful of that responsibility. As a lawyer, I co-chaired (with fellow CIAJ Board member Stephen Bindman) the National FPT Committee on the Prevention of Miscarriages of Justice.
Why is it important for you to be active and involved outside your job?
As a lawyer or a judge, it is very easy to become isolated by the pressure and subject matter of your work. I found that years of coaching my kids' sport teams was not only a lot of fun and a great way to spend time with the kids, but was an outlet from the daily work pressures and isolation.
What else would you have liked to do if you had not become a judge?
I think I would have really enjoyed being a school teacher. It is perhaps for this reason that I teach at every opportunity, whether continuing education classes, law schools, conferences or the Alberta articling program [Justice and Solicitor General's summer law student].
What do you do in your free time, do you have a hobby?
Being in Calgary, I have to say that snowboarding and skiing are my favourite pastimes.
If you could talk to yourself when you were 20 years old what would you say?
Don't care so much about what others think and don't be so fearful of criticism. There is a saying I wish I had known 37 years ago – "To avoid criticism say nothing, do nothing, and be nothing." [Aristote]
---
About The Honourable Judge Eric J. Tolppanen
CIAJ Board of Directors Member since 2018
Judge of the Provincial Court of Alberta
Eric Tolppanen is a Judge of the Provincial Court of Alberta (Calgary, Criminal Division). He graduated from Queen's University and later obtained a Master of Laws (Criminal Law) from Osgoode Hall, graduating in 2009. Eric worked with the Alberta Crown Prosecution Service (ACPS) for the bulk of his 28-year career as a lawyer. His roles with the ACPS included Trial Counsel, Appellate Counsel, and Assistant Chief Crown Prosecutor in the Calgary Trial Office. In 2015, he was appointed Assistant Deputy Minister of the ACPS, a position he held until his judicial appointment in 2020. The Honourable Eric Tolppanen has been on the Board of the CIAJ since 2018.