Legally Blonde: Zoom Edition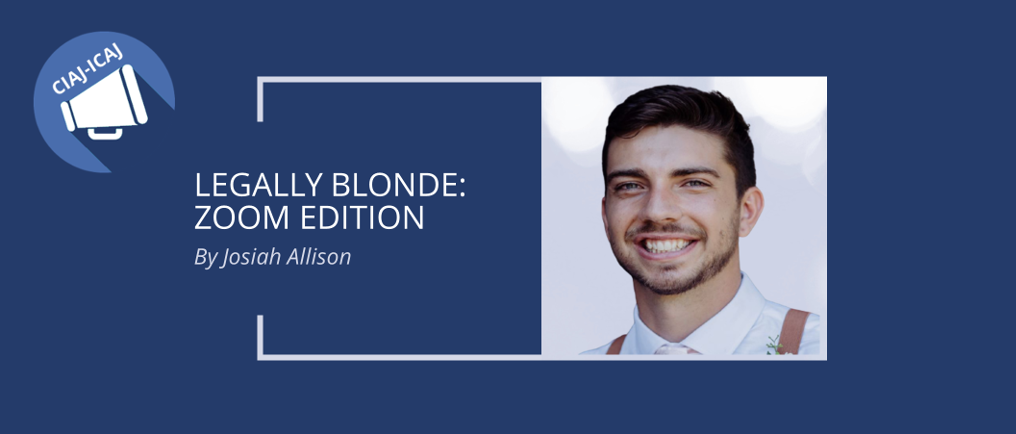 Editor's note: Any resemblance to a famous movie character is absolutely not a coincidence…
The sun comes up, "Perfect Day" by Hoku starts blasting on the radio, and Elle Woods sits straight up in bed. Her smiling face is perfectly framed by her mid-length blond hair as she hops up and takes stock of the day. The first day of Law School, to be exact, and she wants everything to go perfectly. She hurries to the bathroom and begins the long process of her skin and hair routine. Once everything is in place, she carefully puts on her pink button up shirt with matching blazer. She then puts her pajama pants back on and heads straight back to bed. The year is 2021, and due to a global pandemic, Elle's law school will be conducting all their classes online this semester.
Elle fires up her laptop and decides to log in to her virtual classroom a bit early, just to make sure nothing goes wrong. She finds the link to the meeting on her course website and clicks on it. A dialogue box pops up asking her to put in her password. Elle has serious questions about the need for this password. Who in their right mind would try to sneak into her constitutional law class at 8:30 in the morning? She makes a mental note to research law school cybercrime statistics. But not wanting to start the year off in a negative mindset, she pushes aside her questioning thoughts and begins to furiously search through her emails to find the password. As she rifles through them, the clock slowly ticks down to 8:30 and the start of her class. She begins to sweat and the butterflies in her stomach seem to have mutated into large bats. She finally stumbles onto an email from the week before that has both the right link, and the accompanying password. Breathing a sigh of relief, Elle logs in with a smile.
She is greeted by a giant white screen with the words "Waiting Room" across the top. A little put out, Elle tries to keep her spirits up since she will probably be admitted into class in no time. Minutes tick away and Elle looks down in horror to find that it is 8:31. She is convinced the professors have forgotten about her. She grabs her phone and opens her WhatsApp. Ten notifications greet her. They are all from her classmates asking if anyone else is still stuck in the waiting room. Elle breaths a sigh of relief and settles back down. Suddenly, the waiting room disappears, and Elle's screen is covered in a mass of black boxes with the names of all her classmates written across them. Elle's heart is racing. She is so excited to begin this journey.
A face pops up out of the sea of black squares. Elle knows this must be her professor. Elle quivers with anticipation; she cannot wait to see how things will begin. Her professor opens her mouth to start speaking, and…. either Elle's professor has just begun her attempt at breaking the Guinness World Record for the longest yawn, or her screen is frozen. Chat messages pour into the room as the other students realize what has happened. Elle sits tensely until finally her professor's voice comes crackling through her laptop. Elle settles in comfortably to listen to her professor's introduction. As her professor drones on and on, Elle's head slowly droops. She pulls the covers back on to herself and fights off sleep.
Elle starts awake, and in terror looks at her laptop. Her class is over, her meeting is ended. She slept though almost the whole thing… and nobody will ever know. The realization that she can anonymously sleep, eat, dance, or cry her way through every class this semester hits Elle in a wave of relief and excitement, and her future GPA drops by 2 points.
---
To learn more about CIAJ's Student Section and activities for law students: https://ciaj-icaj.ca/en/membership/student-section/