Judicial Courage: Myth or Reality?
Thursday, October 25, 2018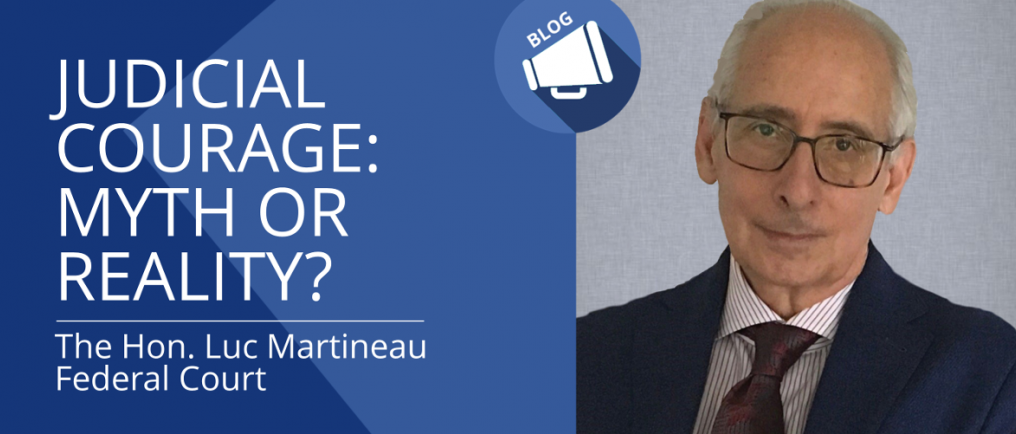 Language is a powerful communication instrument which has no boundaries and shapes the world. As social media ascends, reason is becoming overshadowed by opinion, truth by alternative facts and reality by vocabulary, all things foreign to courts of law. Nowadays, there seems to be no air for judicious neutrality. The epithets "activist", "reactionary", "liberal", and "conservative" pollute public discourse and have become all too familiar. In a polarized America, justice has become an extreme sport where the judiciary stands trial. Would-be pundits and commentators profusely use a partisan language which indelibly marks courageous judges who have been called on to uphold the law or to determine if a law respects the Constitution.
I propose a redefinition – say a reconcilement – of judicial restraint and activism in an essay recently published in the Western Journal of Legal Studies: "Does Judicial Courage Exist, and if so, is it Necessary in a Democracy?", (2018) 8:2 online: UWO J Leg Stud 6 https://ir.lib.uwo.ca/uwojls/vol8/iss2/6/. In my opinion, judicial courage better describes the complex reality of judicial intervention which is far from unidimensional: virtue and duty are tightly intertwined and may even conflict with one another. Judicial independence is a cornerstone of the rule of law and depends on the learned judge's commitment to doing the right thing. The brave judge applies conscientiously the law of the land as he or she understands it, without fear or favour and without regard for the decision's popularity with his or her contemporaries or the general public.
There is no need to reiterate that judicial review of state action is constitutionally protected. Indeed, it has, from day-to-day, proven to be the best non-violent means of ensuring respect for the rule of the law in a democracy. The judicial process's transparency is upheld by cogent and articulate reasons, while the existence of a right to appeal allows errors of law or fact to be remedied. Detractors of a strong judiciary may label courage as analogous to what they would call judicial activism or interventionism: a Court that makes its own laws while ignoring the forest that stretches far beyond the trees. Such fears are perhaps understandable, though they fail to see judicial courage for what it truly is. A judge who strikes down a law (or upholds it) by succumbing to pressure does not act with courage, for judicial courage becomes a virtue only when it is coupled with judicial integrity and impartiality.
We hear today that democracies are in crisis. In theory, the separation of powers should be a sufficient safeguard against authoritarianism. Unfortunately, history has proven otherwise; after all, Hitler was the product of a democracy. The rule of law cannot prevent such lapses from happening again, unless judicial culture becomes impregnated with a set of strong values. The judiciary's strength, as an institution, only goes as far as the willingness of its individual judges to inoculate themselves from those attempting to transform them into puppets and pull their strings, or into sheep to herd them where they choose. The question is not whether we should put our faith in the judiciary. Rather, do we want to change the present paradigm and accept that justice is now a commodity to be rationed when fundamental freedoms and democratic rights are jeopardized?
Ultimately, we, humans, should never lose sight of who we are in the first place: a reasonable species having chosen to be governed by law. The necessities imposed by cherished democratic values give true meaning and life to the law and its language. Ideology has never commanded the edification of Canadian constitutional law. The Constitution would not be the "living tree" we know without judicial recognition of human dignity and faith in democratic institutions. In this area, the courts have played a historic and courageous role which has contributed, in a dignified manner, to the reinforcement of justice.