A Summer as a Judicial Intern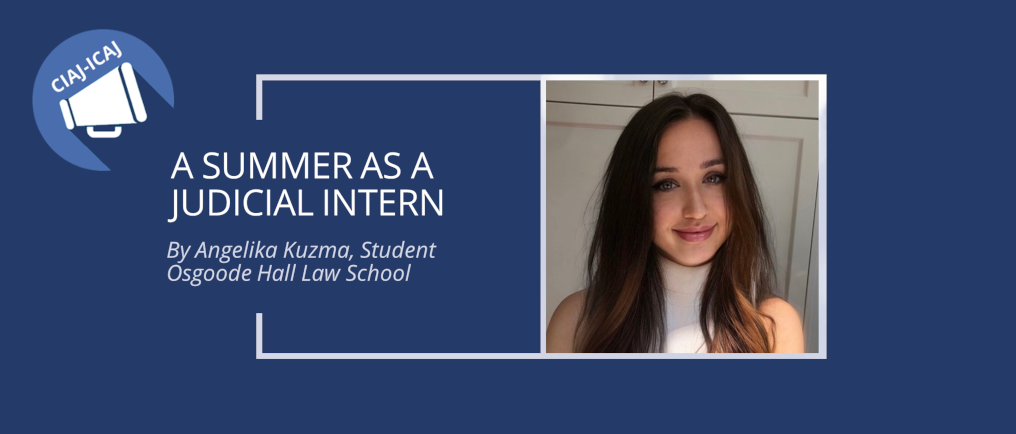 In this blog post, Angelika Kuzma shares her thoughts on her experience shadowing a judge in the summer of 2022.
---
Last summer, I had the unparalleled opportunity to shadow the Honourable Justice Scott K. Campbell of the Ontario Superior Court of Justice. At the time, Justice Campbell was sitting in St. Thomas, in the Southwest Region, as a supernumerary judge. This meant that his Honour had retired from his full-time position and was sitting part-time, in anticipation of his retirement from the bench. Such a unique circumstance meant that Justice Campbell had a relatively lighter, fixed schedule for the summer. Accordingly, I was fortunate enough to join Justice Campbell on a variety of motions, both in-person and online, as well as an in-person criminal trial over the course of the summer. I remain incredibly grateful to Justice Campbell for being so accommodating and offering me such a unique and enriching opportunity.
My first meeting with Justice Campbell brought me to the beautiful city of St. Thomas, Ontario. His Honour had invited me to observe a pre-trial motion dealing with s. 278.1 of the Criminal Code. I made the two-hour drive to the Elgin County Courthouse, arriving a few hours before the scheduled motion. Justice Campbell was kind enough to not only give me a personal tour of the courthouse before the motion, but also offered me my own office to wait in before going into the courtroom—there is a joke about south (western) hospitality somewhere in here!
Justice Campbell was scheduled to sit on a variety of motions that day, however, it was only this first motion that was scheduled in-person. As such, he invited me to sit in on the rest of the motions online. It was very interesting to be able to observe the difference between hearing motions in these two forums—that is, both in-person and through Zoom—on the same day, particularly in light of the transitions to adjudicatory processes prompted by the COVID-19 pandemic.
My next meeting with Justice Campbell brought me out of the city again, however, this time it was to observe a multi-day jury trial at the London Courthouse. The trial dealt with a sexual assault allegation under s. 271 of the Criminal Code. This opportunity was particularly enriching for me as I was able to observe the entire criminal adjudication process, from jury selection to the presentation of evidence. More critically, it allowed me to observe and engage with the law in a far more humanizing and in-depth capacity. Being physically present in a courtroom as compared to, for example, learning about such complex material in a lecture hall, went a long way in helping me to apply a more critical lens to understanding the law, its impact, and the broader relationship it holds to the administration of justice. By the same vein, it also deepened my appreciation for the decision-making capacity of the court. Notwithstanding that this was a jury trial, my confidential conversations with Justice Campbell in his chambers during recesses gave me the unprecedented chance to engage with a legal mind with years of adjudication experience (I anticipate that his Honour would joke about me aging him with such a remark). As such, this program is one that I could not recommend enough to any law student, irrespective of whatever area of law they wish to practice, as it thoroughly helped to shape my understanding of what grounds strong legal insight and intuition.
In a nutshell, my summer as a judicial intern was easily one of the highlights of my law school career thus far. I remain indebted to the Canadian Institute for the Administration of Justice for offering such a meaningful program to students, as well as to Justice Campbell for providing such an enriching experience. I am very grateful to have been a part, however small, of the last stretch of Justice Campbell's judicial tenure and wish his Honour a wonderful retirement.
---
Learn more about CIAJ's activities for law students: https://ciaj-icaj.ca/en/membership/student-section/
Are you interested in contributing to the work of CIAJ? Contact us at info@ciaj-icaj.ca.