Meet our Board of Directors: Brian A. Blumenthal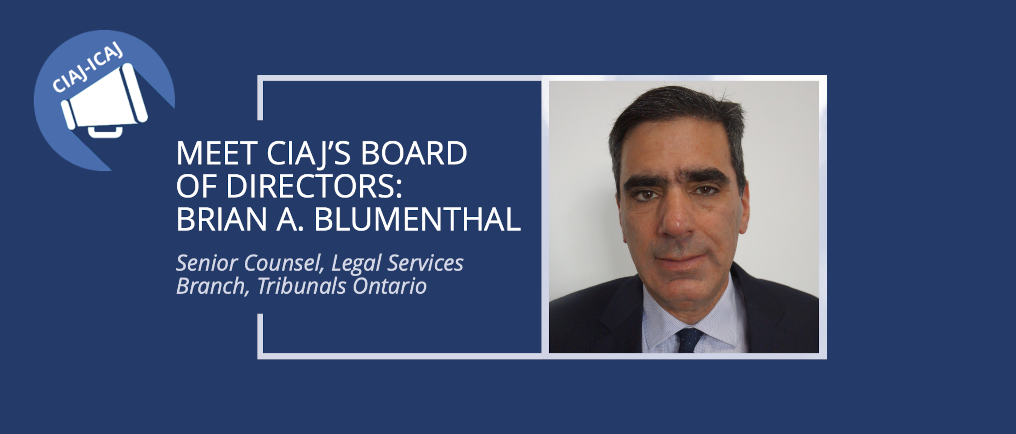 Committed to promoting sound administration of justice since 1974, CIAJ prides itself on supporting the legal community at all levels. CIAJ would like to warmly thank its board members for sharing their skills and working to improve the justice system with heart and wisdom for the benefit of society as a whole. CIAJ's actions and programs would not be possible without the dedication of these outstanding professionals. 
You have joined CIAJ's Board in October 2022. Why did you choose this organization?
I chose to work with the Board of CIAJ for a number of reasons. First, content. I have been fortunate to attend a number of CIAJ's programs, many of which relate to my role as Tribunal counsel. Secondly, CIAJ is a national organization whose scope and multidisciplinary approach of its educational sessions and training programs are unlike other legal organizations. Finally, the diversity of CIAJ's membership, including judges, lawyers, professors and students.
What do you like most about your profession?
While I enjoy the challenges associated with arguing a case before a court or tribunal, I came to understand many years ago, that the practice of law at its core is about human relationships and problem solving. How these relationships succeed or fail and what brings them to a court or tribunal. Being a lawyer gives you insight into these difficult and interesting relationships on a daily basis.
Is there a cause that is particularly close to your heart?
As tribunal counsel, I have spent a great deal of time working on access to justice.
What is the last law or public debate that has particularly caught your interest?
There are two recent public debates that I have been following closely. The first is Public Order Emergency Commission. Difficult decisions were made by elected officials and the Commission allows for transparency. The second is the (now delayed) decision to allow for MAiD for those with mental health disabilities.
Are you active on social media? If so, how? Do you think they can promote access to justice for all?
I don't have Twitter or Instagram accounts, only Facebook. My kids tease me about this. I am not active and I post infrequently.
What else would you have liked to do if you had not become a counsel?
A lottery winner. Failing that, I would have pursued graduate studies in political science/philosophy.
What do you do in your free time, do you have a hobby?
Raising two great sons with my wife, sailing, playing tennis, XC skiing, hiking, reading fiction and travel. All of this brings some balance to an otherwise hectic professional life.
Is there a message you would like to pass on to the new generation of counsel?
To the new generation of counsel, I would say that learning is a lifelong pursuit, seek out as many opportunities as possible and that your role as counsel can be transformative to an organization.
---
About Brian A. Blumenthal
CIAJ Board of Directors Member since October 2022
Senior Counsel, Legal Services Branch, Tribunals Ontario

Since 2012, Brian has been Counsel with Tribunals Ontario (and its predecessor, Social Justice Tribunals Ontario), where he now serves as the litigation lead for the Legal Services Unit. Brian A. Blumenthal holds a B.A. (Manitoba–1986), a LL.B (Calgary–1990), and a LL.M (Administrative Law, 2012–York). He is a member of the Law Society of Manitoba (1991) and the Law Society of Ontario (1993). He acts as counsel in applications for judicial review and statutory appeals in both the Divisional Court and the Court of Appeal for Ontario, and also provides legal and operational advice to tribunals within the organization. From 1999–2012 Brian was litigation counsel with both Ministry of Labour (1999–2010) and the Ministry of the Environment (2010–2012). He also provided legal, policy, operational and strategic analysis and advise to senior management on matters affecting the ministries. Prior to that, he was in private practice with focus on criminal law, administrative law and civil litigation.