Meet our Board of Directors: Brenda Young
Wednesday, January 25, 2023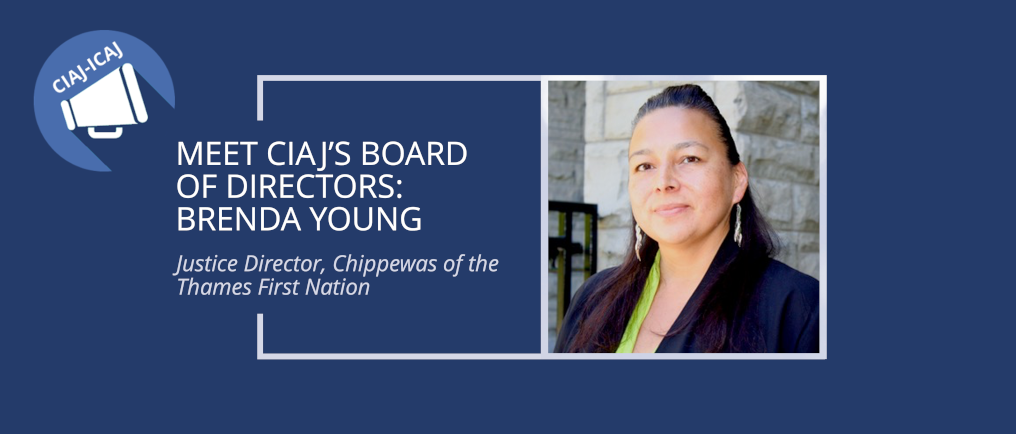 Committed to promoting sound administration of justice since 1974, CIAJ prides itself on supporting the legal community at all levels. CIAJ would like to warmly thank its board members for sharing their skills and working to improve the justice system with heart and wisdom for the benefit of society as a whole. CIAJ's actions and programs would not be possible without the dedication of these outstanding professionals.
You have joined CIAJ's Board in October 2022. Why did you choose this organization?
I believe in the staff and the high caliber work that is produced.
Why is it important for you to be active and involved aside from your occupation?
It is intellectually stimulating to be part of high functioning teams.
What do you like most about your profession?
I like the many different opinions towards the same issue–the intelligent banter.
Is there a cause that is particularly close to your heart?
Indigenous Peoples Human Rights.
Do you think that justice is evolving at the same pace as society?
When I think about the criminal justice system, I would answer the question, no. The system is all about punishment, which, in my opinion, is not the most effective way to correct behaviours. In addition, the system is extremely slow and it becomes toxic and induces trauma for "victims" of crime.
What is the last law or public debate that has particularly caught your interest?
Who is the most inspiring person or personality in your career and why?
Chief Tecumseh – he did not back down, and he never gave up.
What is the greatest challenge you have faced along the way?
Being a strong Anishinaabe-Kwe in Canadian Society.
What else would you have liked to do if you had not become a lawyer?
I almost became a forensic psychologist; both paths were before me at the same time, and I chose law.
What do you do in your free time, do you have a hobby?
I enjoy reading, cooking, laughing with friends, and travelling the world to meet Indigenous People of the places that I have travelled to.
Is there a message you would like to pass on to the new generation of lawyers? If you could talk to yourself when you were 20 years old what would you say?
When you make decisions, make them based on 7 generations ahead and ask yourself does the decision make sense in the light of that future time.
---
About Brenda Young
CIAJ Board of Directors Member since October 2022
Lawyer and Justice Director, Chippewas of the Thames First Nation (Muncey, ON)
Brenda Young is a proud Anishinaabe-Kwe who cherishes her privilege of being a mom. Through the years, her passion for addressing inequities resulted in public service to boards and committees committed to race relations, anti-bullying, mental health, and women's issues. She continues to serve on the Legal Aid Ontario Aboriginal Issues Advisory Committee, the Federal Human Rights Expert Panel to the Court Challenges Program, and the London Family Court Clinic Board of Directors.
As a lawyer, Brenda has devoted her career to understanding human rights and seeking solutions that respect human rights. She has examined human rights systems within the provincial, national, and international fora. She participated as an Indigenous Fellow with the United Nations Office of the High Commissioner for Human Rights and was also a recipient of the Law Foundation of Ontario Community Leadership in Justice Fellowship.