Refreshing, Relevant and Rewarding: My Summer Experience at CIAJ
Wednesday, November 23, 2022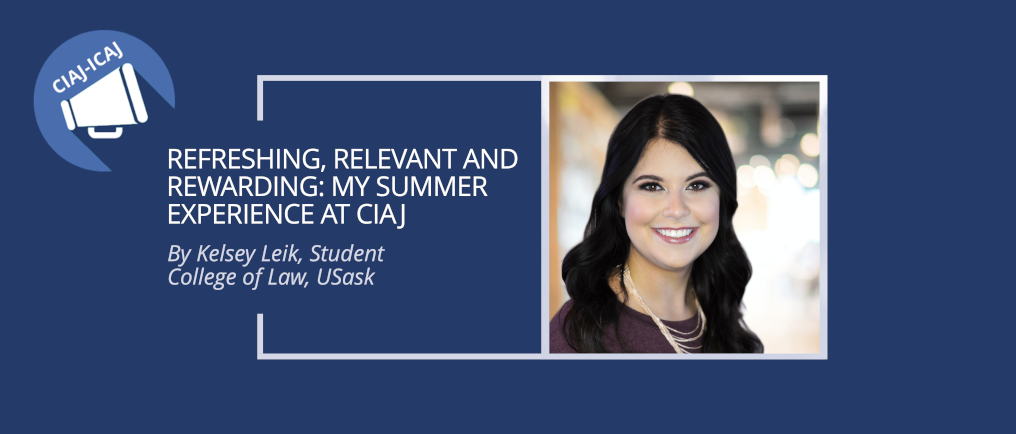 In this blog post, Kelsey Leik shares her thoughts on her experience working at CIAJ during the summer of 2022.
---
Working at the Canadian Institute for the Administration of Justice (CIAJ) was a wonderful way to spend my 2L summer. As a former Engineer-in-Training and first-generation law student, I was unaware of the influential role that CIAJ serves in the justice system prior to this placement. Over an 8-week period, I collaborated with colleagues across the country to create educational resources that span diverse legal issues.
Most of my time at CIAJ was spent researching topics related to the overrepresentation of Indigenous peoples in Canada's criminal justice system. The Supreme Court of Canada has provided a framework of sentencing principles, through the landmark cases of R v Gladue (1999) and R v Ipeelee (2012), to address this injustice. Our student team examined the existence and efficacy of restorative justice systems to determine if, and how, these principles have been implemented throughout Canada. I live, work, and attend university on Treaty 6 Territory and the Homeland of the Métis. This project affirmed that there is an enormous amount of work to be done to realize the validity of Gladue principles and Indigenous self-governance in my home province of Saskatchewan. I am certain that CIAJ will utilize this research to develop informative programming and bring attention to this important subject.
I also helped organize a panel for CIAJ's 46th annual conference, "The Right to Dignity in Canadian Law". This discussion focussed on the inequity faced by women, non-binary people, members of the 2SLGBTQ+ community, members of the BIPOC community, and those with disabilities in law school and legal practice. Being a female law student and having worked as a woman in STEM (science, technology, engineering, and mathematics), I am unfortunately familiar with the spectrum of harassment that is prevalent in these industries. Many workplaces shy away from this topic; it was comforting to know that my employer was not only supportive of my experiences (and those of the prospective panellists) but willing to give them a national platform.
Near the end of the summer, my colleagues and I drafted proposals for upcoming episodes of CIAJ's podcast, "In All Fairness". We were given the creative freedom to curate legal topics that were of interest to us, such as developments in Canadian cannabis law and how patient dignity is impacted by biases in our country's healthcare system. This project was a fun way to practice our research skills and showcase current events in an accessible format.
I am very thankful for the connections I formed during my term with CIAJ, and I look forward to participating in future programming throughout my legal career.
---
Learn more about CIAJ's activities for law students: https://ciaj-icaj.ca/en/membership/student-section/
Are you interested in contributing to the work of CIAJ? Contact us! https://ciaj-icaj.ca/en/our-network/working-at-ciaj/