Meet our Board of Directors: The Honourable Chief Justice J.C. Marc Richard
Wednesday, January 12, 2022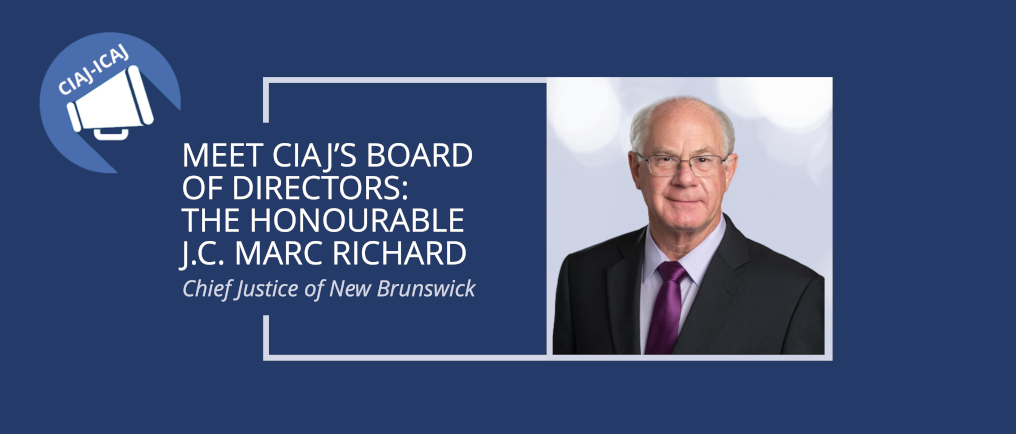 Committed to promoting sound administration of justice since 1974, CIAJ prides itself on supporting the legal community at all levels. CIAJ would like to warmly thank its board members for sharing their skills and working to improve the justice system with heart and wisdom for the benefit of society as a whole. CIAJ's actions and programs would not be possible without the dedication of these outstanding professionals.
What does CIAJ mean to you?
CIAJ provides high quality education programs to judges, administrative tribunal members etc. I have been a proud member of the Board since 2017. The 2019 Annual Conference comes to mind as a particularly excellent program on current technological-social issues.
Why is it important for you to be active and involved outside your job?
Throughout my career as a lawyer and as a judge, I have always sought ways to pursue continuing education and to give back to the legal/judicial profession.
What do you like the most about your job?
The best part about the judicial role is that we administrate justice according to law in a way that seeks to enhance public confidence in the administration of justice, thus strengthening the rule of law in our province/country.
Is there a cause you feel strongly about?
I am a very strong supporter of access to justice initiatives and of high quality continuing judicial education.
Do you think that justice evolves with society? Faster/slower?
This is an odd question. Societal progress and changes will eventually result in changes to the law to reflect the new norms. More often, societal change comes first and the law follows; however, in some areas Court decisions have hurried things along.
What is the last law or public debate that has marked you?
What baffles me is the demise of the rule of law and the crumbling of democracy in countries that used to champion these values.
What do you think about the Internet exposure of legal cases?
Not something I watch or follow.
What is the greatest challenge you have faced along the way?
The difficulty of balancing an active professional life with my family life. Sadly, the latter suffered as a result.
What else would you have liked to do if you had not become a judge?
I would have liked to work with organizations that promote the rule of law in developing democracies.
What do you do in your free time, do you have a hobby?
Not much free time, but I play some golf in the summer. I also like photography.
Is there a message you would like to pass on to the new generation of judges? If you could talk to yourself when you were 20 years old what would you say?
The road leading to a judicial appointment is long and arduous and will require numerous sacrifices. Many will seek to follow it, and, from those who do, only a fraction will succeed. While getting a judicial appointment is professionally fulfilling, the road upon which one then embarks is perhaps more arduous and demanding than the one to get there. This, because judges have a sworn duty to all they serve to do justice according to law, an obligation that can at times be very difficult to fulfill.
---
About The Honourable J.C. Marc Richard
CIAJ Board of Directors Member since 2017
Chief Justice of New Brunswick
The Honourable J.C. Marc Richard is Chief Justice of New Brunswick. Chief Justice Marc Richard studied at the Université de Moncton (B.B.A. – 1980, LL.B. – 1983) and the London School of Economics and Political Science (LL.M. – 1984). Admitted to the practice of law in 1985, he worked first as Crown Prosecutor then as a litigation lawyer with Barry & O'Neil (later renamed Barry Spalding Richard) in Saint John. His practice brought him before various administrative tribunals, all levels of the New Brunswick courts, and the Supreme Court of Canada. As a lawyer, Marc Richard served on several national and provincial committees, task forces or advisory groups of the Canadian Bar Association (NB) and the New Brunswick Law Society, and he was elected president of both organizations. He was appointed Queen's Counsel in 2002 and, a year later, a judge of the Court of Appeal of New Brunswick. Since then, Chief Justice Richard served on countless judicial committees, including the Canadian Judicial Ethics Advisory Committee and the Judges' Association's Conduct Review Committee, eventually becoming Chair of both. He became a member of the Board of Directors of the Canadian Superior Courts Judges Association in 2004 and, in 2015, was the first judge from New Brunswick elected as the Association's President. He was the first judge to chair a Judicial Advisory Committee on International Engagement, a committee on which he still sits. Appointed Chief Justice of New Brunswick on May 1, 2018, he now serves on the Canadian Judicial Council, where he sits on four committees including the Executive Committee and the Judicial Conduct Committee. The Honourable J.C. Marc Richard has been on the Board of CIAJ since 2017.