Meet our Board of Directors: The Honourable Chief Justice Michael J. Wood
Wednesday, November 24, 2021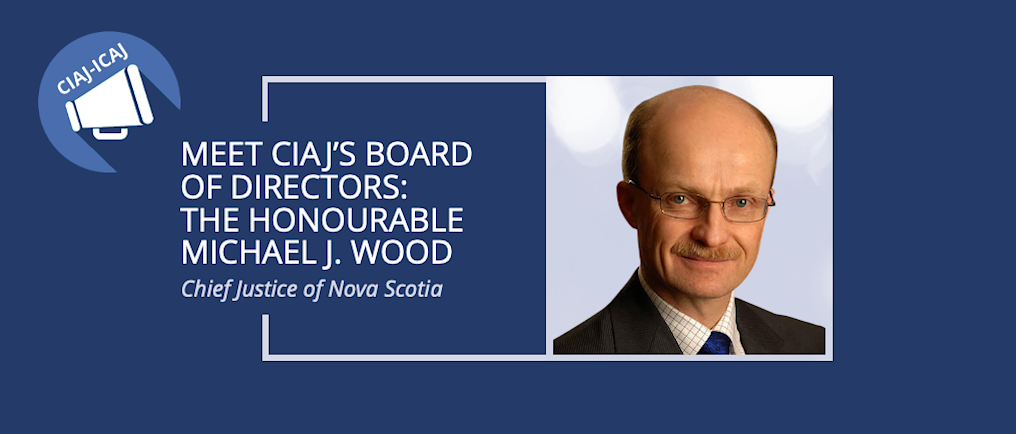 Committed to promoting sound administration of justice since 1974, CIAJ prides itself on supporting the legal community at all levels. CIAJ would like to warmly thank its board members for sharing their skills and working to improve the justice system with heart and wisdom for the benefit of society as a whole. CIAJ's actions and programs would not be possible without the dedication of these outstanding professionals.
NOTE: The Honourable Chief Justice Michael J. Wood stepped down from the Board of Directors on November 16, 2021, after his term as Second Vice-President
What does CIAJ mean to you?
CIAJ represents a diverse group of judges, lawyers, students, academics, and others committed to improving the administration of justice in Canada. It is unique in the breadth of the perspectives it brings together. I joined CIAJ's Board of Directors in 2015. The Annual Conference is always an important event because the focus is on issues that are relevant and frequently include tough questions that need to be discussed.
Why is it important for you to be active and involved outside your job?
As a judge there are limitations on permissible outside activities, however it is important that members of the judiciary engage appropriately with stakeholders in the justice system. In this way there can be opportunities to exchange ideas and discuss issues that affect how we perform our roles. It is also enjoyable and insightful to get together with non-judges in a less formal setting such as a meeting or conference.
What do you like the most about your job?
The opportunity to continue to learn about issues that are important to members of our society and, in some cases, influence their development.
What do you think about the Internet exposure of legal cases?
The justice system thrives when the public can see and understand how it works. It builds confidence in the integrity of the process and the decisions that are reached. The internet has an important role in providing this public access. Although there is a risk of misuse this can be managed and does not override the value of having the work of the courts open to public scrutiny.
Are you active on social media? If so, how? Do you think they promote access to justice for all?
I am not personally on social media although I can see the potential value for courts to use such platforms to communicate a variety of information.
When you chose to study law, were you thinking of pursuing a career as a judge?
While at law school the furthest thing from my mind was to become a judge. I felt my law degree would provide a broad education and give me skills which are valuable for many career paths – I was open to whatever might come along.
What else would you have liked to do if you had not become a judge?
If I had not become a judge, I would have been very happy to continue practising law – it is a wonderful profession. I would likely have become more involved in teaching, particularly at the faculty of law.
What do you do in your free time, do you have a hobby?
I like to cook, travel and swim.
---
About The Honourable Chief Justice Michael J. Wood
CIAJ Board of Directors Second Vice-President until November 16, 2021 (joined the Board in 2015)
Chief Justice of the Nova Scotia Court of Appeal
The Honourable Chief Justice Michael J. Wood is the Chief Justice of the Nova Scotia Court of Appeal and the 23rd Chief Justice of Nova Scotia. He is a graduate of Acadia University and received his law degree from Dalhousie University in 1982. He practised civil litigation and administrative law in Halifax, Nova Scotia until his appointment to the Supreme Court of Nova Scotia in 2011.He was appointed as the twenty-third Chief Justice of Nova Scotia in April 2019. He has lectured for many years at the Schulich School of Law at Dalhousie University and is a frequent contributor to education programs for lawyers and judges. Chief Justice Wood is active in legal education, including as a member of the board of directors of the Canadian Institute for the Administration of Justice. He was elected to CIAJ's Board of Directors in 2015 and stepped down on November 16, 2021, after his term as Second Vice-President.