Meet our Board of Directors: The Honourable Justice Michelle O'Bonsawin
Thursday, September 30, 2021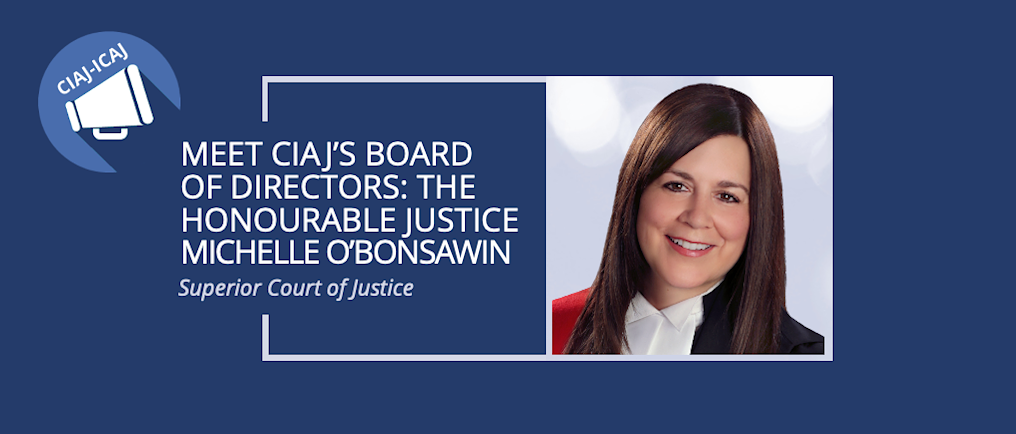 Committed to promoting sound administration of justice since 1974, CIAJ prides itself on supporting the legal community at all levels. CIAJ would like to warmly thank its board members for sharing their skills and working to improve the justice system with heart and wisdom for the benefit of society as a whole. CIAJ's actions and programs would not be possible without the dedication of these outstanding professionals.
NOTE: The Honourable Justice Michelle O'Bonsawin stepped down from the Board of Directors prior to her appointment to the Supreme Court of Canada on September 1, 2022.
What does CIAJ mean to you? How long have you been a member of the CIAJ board of directors?
CIAJ has a strong role to play in the administration of justice. In my experience, CIAJ has provided me with training that is relevant to my role as a judge. I have been a member of the Board of Directors for two years [2019].
Why is it important for you to be active and involved outside your job?
It is important for me to be active in the community because I want to contribute in a value-added way. My hope is to educate the public about our role as judges and to share my knowledge and experience regarding Indigenous issues, mental health law, and the forensic mental health system.
What do you like the most about your job?
I love the variety and the continuing challenges. Every morning, I am proud go to work and provide the best public service possible.
Is there a cause you feel strongly about?
As an Abenaki woman, I feel strongly about Indigenous issues and access to justice in the French language.
Do you have a reference/influence/model in this field? Why?
My role model is the Right Honourable Beverley McLachlin. Throughout her career, she has shown great wisdom, dedication, and poise.
When you chose to study law, were you thinking of pursuing a career as a judge?
I did not aspire to become a judge when I first chose to study law. I first considered pursuing a career as a judge in my first year of law school. A representative from the Commissioner's office provided a presentation to our legislation class. He explained to us the requirements to become a judge. He told us the perfect judge was a bilingual, Indigenous woman. I thought, "Hey, that's me! This is my future goal!"
What else would you have liked to do if you had not become a judge?
I would have gone into medicine.
What do you do in your free time, do you have a hobby?
I spend time with my family, I practise my Abenaki language and I paint.
Is there a message you would like to pass on to the new generation of judges? If you could talk to yourself when you were 20 years old what would you say?
I will share the same advice I was provided by my mentors when I started practising law. First, ensure all your dealings with others are appropriate, even with opposing counsel. You only have one reputation and make sure you protect it because if you lose it, it is gone forever. Second, prepare every file like it is your first one. Preparation is the key to success.
---
About the Honourable Justice Michelle O'Bonsawin
CIAJ Board of Directors Former Member (member from 2019 to 2022)
Judge at the Supreme Court of Canada
Madam Justice Michelle O'Bonsawin is an Abenaki member of the Odanak First Nation, Québec, and the first Indigenous judge named to the Ontario Superior Court of Justice in Ottawa. She is perfectly bilingual and actively learning her Abenaki language. Prior to joining the Superior Court of Justice, Madam Justice O'Bonsawin was General Counsel at the Royal Ottawa Health Care Group and previously Counsel at the Canada Post Corporation. She practised in the areas of mental health, labour, employment, human rights and privacy law. She has also taught the course Les Autochtones et le droit part-time at the University of Ottawa. She was a member of the University of Ottawa's Board of Governors and a Board member of the Aboriginal Legal Services of the University of Ottawa Legal Aid Clinic. Madam Justice O'Bonsawin is a frequent guest speaker regarding issues of mental health law and Gladue principles. She has been a guest speaker at conferences held by the Association des juristes d'expression française de l'Ontario, the Canadian Institute for the Administration of Justice, the National Judicial Institute, the Action Committee on Access to Justice in Civil and Family Matters, the University of Ottawa and the County of Carleton Law Association. She was nominated for the Laura Legge award in 2017 and profiled in Tête à Tête—Improving Understanding in the Nation's Courtrooms in 2016. In 2013, she was awarded the Rising Star Award by Lexpert Magazine, recognizing her as one of Canada's leading lawyers under 40. She was also recognized as a leading businesswoman by Canada Post Corporation on International Woman's Day in 2008. She served on the CIAJ Board of Directors from 2019 to 2022 prior to her appointment to the Supreme Court of Canada on September 1, 2022.