Careful: Secularism Doesn't Actually Protect Women's Rights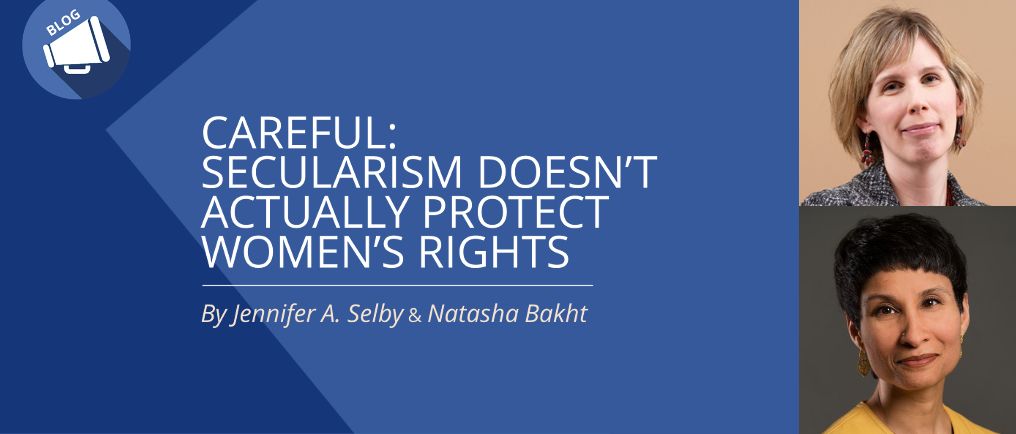 Bill 21, "An Act Respecting the Laicity of the State," claims in part to be a move to defend gender equality. The logic behind the proposed bill is that visible religious signs impede women's full participation in public. We know this is not a new concern. Like limitations imposed on women in countries across the North Atlantic world,  during the perilous-for-women "années noires" in Québec, when Catholicism enjoyed tremendous privilege, women did not have access to divorce, birth control, abortion and a host of other  ways to protect their political and sexual lives. The Quiet Revolution meant that women began to have more access to rights.
In the current debates on religious signs in Québec, the hijab and and niqab are understood to infringe upon these hard-fought-and-won rights. The fear is that these garments are inherently oppressive, or at worst that women are compelled to wear them by men enforcing patriarchal-based religious beliefs.
But make no mistake: secularism has never tangibly protected women's rights. It is about regulating religion, and in this case, is forced irreligion.
In relation to the French context where similar logics against Muslim women's dress also exist, Joan Wallach Scott has argued that secularism has never been about gender parity, both in the 19th century and today. As evident in recent debates on hijabs sold in department stores and the acceptability of burkinis on a beach, what is at stake is a narrow vision of women's sexual emancipation. As one French mayor worried before the law prohibiting them was introduced, with a niqab, women are "are not free to show themselves…even less to seduce." There are frightening non-egalitarian ideals behind some "protections" of women's bodies.
For example, when the public is encouraged to police women's clothing, as the CAQ has suggested, women invariably experience humiliation and violence.  When former Prime Minister Harper called niqabs "anti-woman" garments, some were emboldened. Anti-Muslim and racist hate crimes increased substantially. With Bill 21, a toxic environment toward certain religious signs is purposefully generated. Religious bodies are formally pushed out of the "nation" of Québec, including those who can keep their jobs because of the bill's grandfather clause. Racialized immigrant women will experience the worst of this exclusion and violence.
Forcing women to remove their religious signs will also not enhance their equality. It will limit women's ability to work and rise through the ranks of the public sector and if women wear a full-face veil it will also impede their ability to access public transportation, daycare, important health and social services and deny them multiple levels of education, reducing their economic agency.