Facilitation Conference in Criminal Matters: Advantages and Challenges
Thursday, December 13, 2018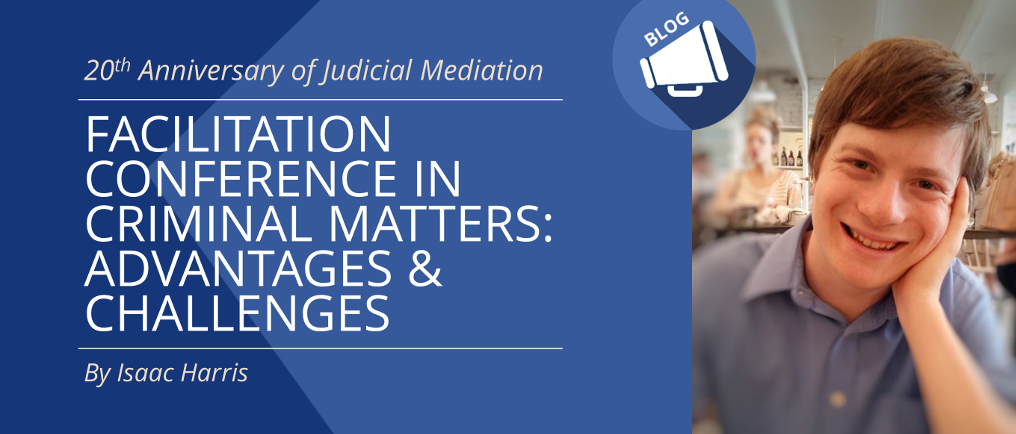 Given that criminal proceedings are a matter of public law, facilitation conferences present interesting challenges. These measures generally follow a guilty plea by the accused and will thus focus on sentencing. Since everyone who is accused has the right to a presumption of innocence, it is essential that anyone who participates in these conferences does so voluntarily. In other words, judges must be wary of situations where the accused seems to feel as though they were coerced into pleading guilty. This can notably be distinguished from civil law cases where constitutionally enshrined rights are not at play. Moreover, there are certain ethical problems that can result from the fact that these conferences do not have a specific legal basis. There is no long history of criminal mediation as is the case with trials. Judges must therefore be particularly vigilant when proceeding over mediation in criminal cases.
All this being said, there are clear advantages that have stemmed from facilitation conferences in Criminal Matters. In recent years, the Supreme Court of Canada has delivered two crucial decisions regarding acceptable delays in criminal trials. These consist of the Cody and Jordan decisions. As a result, there has been a major emphasis placed on different initiatives that provinces can undertake in order to reduce these delays. In the aftermath of this dilemma, mediation has emerged as a critical tool for the criminal justice system. When compared to trials, mediation in criminal matters has proven to be less costly and can be completed in a much shorter timeframe. The Honourable Justice Zigman recounted stories of mediation conferences that were concluded within three days that if they were to have gone to trial would've taken two or three weeks. It was also shown that 95% of the cases that opted for mediation were resolved within that process. This kind of efficiency is something that the criminal justice system should strive towards. As the Supreme Court of Canada reminded us, the right to be tried within a reasonable delay is protected by the Constitution.
On a more human level, avoiding criminal trials also has many benefits for those most involved in them. Witnesses who are called upon to recount their experiences undergo large psychological stress. This is especially the case for the victims who sometimes feel as though they have to relive the crime. In cases that are particularly emotionally fraught, such as cases of sexual violence, it is preferable to avoid going to trial when possible.
All in all, mediation in public matters of law presents distinct challenges. Nonetheless, the benefits for all the actors of the legal system, whether they be the victims or the accused, are undeniable. We would be well placed to encourage more mediation in criminal matters, when of course the accused and the prosecution are amenable to it.
---
PANEL: Facilitation Conference in Criminal Matters
Chair: The Hon Robert Pidgeon, Associate Chief Justice, Superior Court of Québec
Speakers: The Hon. François Doyon, Court of Appeal of Québec; The Hon. Maurice Galarneau, Court of Québec; The Hon. Jerry Zigman, Retired Judge, Superior Court of Québec
This report was issued by the Canadian Institute for the Administration of Justice on December 13, 2018, following an International Seminar celebrating the 20th Anniversary of Judicial Mediation. The Honourable Nicole Duval Hesler, Chief Justice of Quebec, was Honorary Chair for the event which was held in Montreal on November 22, 2018.
To share your comments, please contact CIAJ by email at: ciaj@ciaj-icaj.ca.