Shaping Justice Together
Friday, December 15, 2017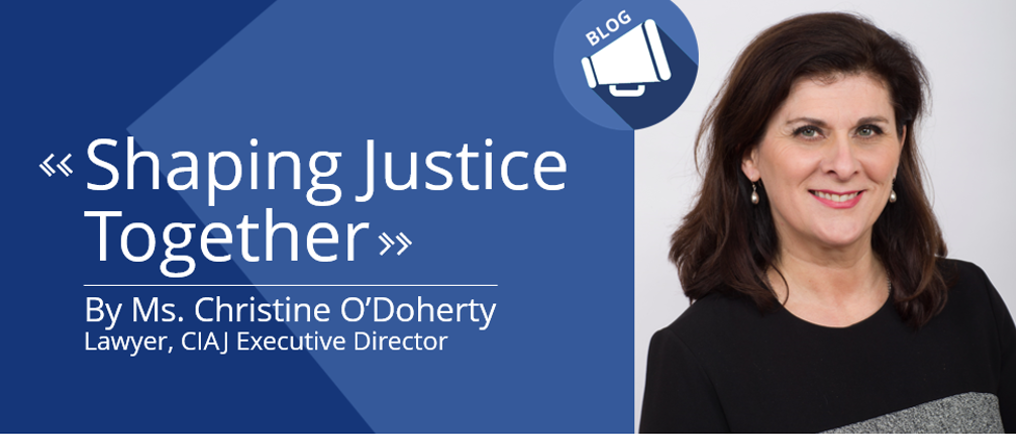 The justice system is being criticized a lot these days. We must admit that some of that criticism is justified. If we observe a system that is flagging and must be renewed, we must also recognize that every day, men and women are acting in concrete ways to improve the system and its accessibility. If a system sometimes fails to achieve its mission, individuals, on the other hand, are able to implement initiatives to bring about changes.
Examples abound in the creation of a Mental Health Court (Ottawa), a program to support justice for the homeless (Municipal Court, Montréal), a new application for self-represented litigants (Nova Scotia), a healing circle for Indigenous Peoples, a response protocol in mental health (Laval – PIL—SM of the Court of Québec). These innovations help litigants and increase their trust in the justice system.
CIAJ needs You!
Become one of 1,300 CIAJ ambassadors in Canada and help, one step at a time, to improve the system.
By becoming a member, you may: participate in debates and discussions on important topical issues; contribute to the organization of conferences and seminars; take part in unsurpassed educational programs, and commit to transform the justice system.
Join CIAJ, and:
be part of a multidisciplinary organization;
reach out to a professional network across Canada and expand your practice;
save up to $150 on programs and earn CPD hours;
help train the next generation of great justice ambassadors;
be a powerful voice for the public.
CIAJ members represent all Canadians. There are members of the legal profession, members of administrative tribunals, members of the judiciary, professors, legislative drafters, journalists, judicial administrators and representatives of governmental and social organizations and police forces, as well as the public. Our services are offered to members in both official languages. The multitude of perspectives enriches our discussions.
Helping you expand your professional network is part of our mission.
We invite you to renew your membership or become a CIAJ member. To see what benefits are available to our members, take a look at our web page.
Thank you to our members
I would like, on behalf of myself and the Board of Directors, to thank everyone who helped make a success of our 2017 programs. We are grateful to the members of our planning committees and to our speakers who contributed to the quality and integrity of our programs. A special thanks to our student reporters from the Faculty of Law, Université of Montréal, who wrote panel summaries for the 2017 Annual Conference.
As a token of our appreciation, all of our 2017 speakers will receive a free one-year membership. The one-year membership will take effect January 1, 2018.
In 2018, new member services are being offered: webinars, exclusive activities, individual coaching in decision writing and a variety of training platforms. Stay tuned by subscribing to our newsletter.
Please don't hesitate to contact us with your suggestions and comments. We want to hear from you!
People are changing the world, not systems.
If you want to get involved, or if you have questions about membership, please contact me, Christine O'Doherty at christine.odoherty@ciaj-icaj.ca or call me at 514-343-6111 ext. 4096.