Legal Profession and Addiction: Is There an Elephant in the Room?
Tuesday, December 20, 2016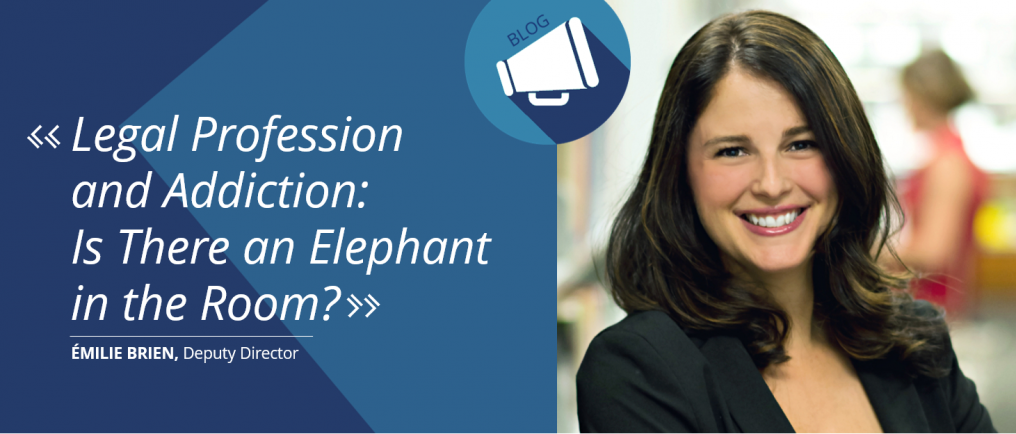 On November 28, the CIAJ and The Action Group on Access to Justice (TAG) held their annual joint conference on mental health in Toronto. This year, a taboo subject was on the agenda: Addiction in the legal profession. Patrick Krill, Principal and Founder of Krill Strategies, presented the results of his national research conducted earlier this year within the American profession: The Prevalence of Substance Use and Other Mental Health Concerns Among American Attorneys.
This study revealed that between 21% and 36% of lawyers scored a level consistent with problematic drinking. For comparison purposes, these figures are 3 to 5 times higher than US government statistics in the general population. Moreover, it is during the first fifteen years of practice that they most often develop the problem. Do these statistics also reflect what is happening in the Canadian legal profession? In Mr. Krill's opinion, they do, because mental health and addiction are more directly related to the profession than to nationality.
A panel composed of Doron Gold, Staff Clinician and Presenter at Homewood Health, Joanne St. Lewis, Bencher at the Law Society of Upper Canada and Carrie Fiorillo, Duty Counsel at Legal Aid Ontario and former drug addict (read her story) was formed to comment on the results. Various reasons have been put forward to explain these results: the stressful and competitive environment, the long working hours, the social activities organized around alcohol, the definition of success for some and the disillusionment of young people when they enter the labour market. And why worry about it? Because, according to experts, this is a human duty above all, and also an ethical one.
The addiction problem can impair the skills necessary to practice law well: ethics, diligence, confidentiality. The individual's problem can also become the problem of the employer and society as a whole.
Related Resources
Video of the Conference
To view the recording of the November 28th conference, visit the TAG website: https://theactiongroup.ca/2016/12/follow-up-addiction-in-the-legal-profession/
Émilie Brien, lawyer
Deputy Director at CIAJ