Why CIAJ is as relevant as ever after 42 years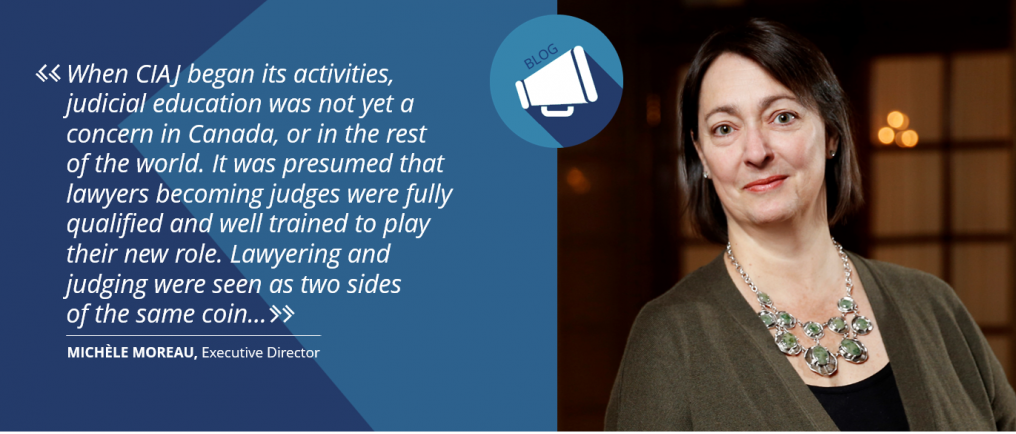 The Canadian Institute for the Administration of Justice (CIAJ) was created in 1974 to offer judicial training on judgment writing and other essential skills for judges. And more than forty years later, it is still going strong. Why? Because the organization has been evolving with the changing needs of our society, with the strong support of its volunteers and members.
When CIAJ began its activities, judicial education was not yet a concern in Canada, or in the rest of the world. It was presumed that lawyers becoming judges were fully qualified and well trained to play their new role. Lawyering and judging were seen as two sides of the same coin.
CIAJ's founders were visionaries when they saw the enormous potential for an improved justice system if they could develop a specific cursus for judges, to help them to become better judges. This vision led to the birth of the National Judicial Institute (NJI) about 25 years ago. NJI's mission is to build better justice through leadership in the education of judges. Sounds familiar?
CIAJ could have disappeared then. Instead, it welcomed other stakeholders in the justice system as members and developed education programs for a larger audience. Always mindful of various issues emerging within the administration of justice, CIAJ rose to the challenge and provided high-quality education opportunities to tackle those issues. And it still does today.
CIAJ has become well-known for its multidisciplinary programs engaging all players in the game of justice to identify challenges and opportunities, propose solutions and improvements, bring together the decision-makers.
Today, CIAJ's volunteers and members come from all regions of Canada, and include members of the legal profession, the judiciary, professors, legislative counsel, members of administrative tribunals, journalists, court personnel, representatives of government agencies, staff from community organizations, police and corrections, and the public.
CIAJ is still relevant today because of the people who make it all happen: our volunteers. They are everywhere: on the Executive Committee and the Board of Directors, on planning committees for all our activities, on committees of the Board such as Communications or Audit and Finances. And they are the speakers, presenters, panelists, moderators who offer their expertise and passion to make CIAJ a leader in the administration of justice through knowledge, learning and the exchange of ideas.
With only 6 staff members to organize a full calendar of education programs in both languages across Canada every year, it is obvious that CIAJ owes its lasting relevance to its many volunteers.
Since I became CIAJ Executive Director a few years ago, my 'elevator pitch' has been as follows: CIAJ is a not-for-profit charity association committed to creating a forum for the exchange of diverse views and to promoting innovative ideas for law reform in Canada's justice system. And it works!
There is no doubt in my mind CIAJ's mission will continue to be relevant in the future. Get involved and be part of the conversation!
Ms. Michèle Moreau, Lawyer
CIAJ Executive Director