– Introduction to Alberta's: Reforming the Family Justice System initiative (PDF)
April 2021
– News release: A2JBC launches Transform the Family Justice System Collaborative (PDF)
June 7, 2022
– Re-imagining the Family Justice System: an introduction to Alberta's Reforming the Family Justice System initiative (PDF)
Diana Lowe, QC, September 2021, Vol. 51 Family Law Journal 1156
– RFJS in Grande Prairie, Community Accelerator meetings (May 16 & 19, 2022) – Insight Formation Inc:
May 16, 2022:
May 19, 2022:
Documents: Engaging the Public: Working With, Not For – December 9, 2015, Updated April 19, 2016 (Prepared for the Reforming the Family Justice System Initiative by the Diversity and Inclusion Subgroup of the Engaging the Public Working Group) (PDF)
– Transform the Family Justice System website
– Access to Civil & Family Justice: A Roadmap for Change, Report of the Action Committee on Access to Justice in Civil and Family Matters, October 2013
This report called for a new way of thinking, which it referred to at page 6 as "a culture shift"
This type of transformational change was also discussed in Beyond Wise Words, which spoke at p.8 of concern about insufficiency of reforms to date: The language of "drastic change" and "fundamental overhaul" corresponds with calls made in earlier reports for a "paradigm shift" and for a family justice system that is 'fundamentally different from what we have known in the past.
– Enhancing Public Governance: An Agenda for 2021 and Beyond – Academy Election 2020 Project Working Group: Develop New Approaches to Public Governance and Engagement (PDF)
National Academy of Public Administration, 2020
– Family Justice Reform: A Review of Reports and Initiatives, Prepared by Erin Shaw, Action Committee on Access to Justice in Civil and Family Matters, April 15, 2012.
Quote from p. 4: "The perception that the various family justice reform efforts made to date have fallen short of the mark is reasonably common, as is the concomitant suggestion that something more "drastic" or fundamental is required to bring the necessary changes to family justice."
– Justice for All: The Report of the Task Force on Justice, April 2019
– Leading Social Transformations: Creating Public Value and Advancing the Common Good
John M. Bryson, Bill Barberg, Barbara C. Crosby & Michael Quinn Patton, May 4, 2021
– Meaningful Change for Family Justice: Beyond Wise Words, Final Report of the Family justice Working Group, Action Committee on Access to Justice in Civil and Family Matters, April 2013.
Quote from pages 5-6 of this report underlines the urgency for change:
"With family separation occurring on a large scale, and in the context of dramatic social change, it is not surprising that justice systems across the Western world have been struggling to meet the challenge of responding to the complex and growing needs of families. The many reports from around the common law world reflect a remarkable consistency in the conclusions reached about what does and does not work in family justice systems.
The problems identified in the reports that precede this one were distilled in the background paper prepared for the FJWG as follows:
There is a built-in tendency for adversarial process to polarize spouses and exacerbate conflict;
Parental conflict can be very harmful to children;
Conflict tends to protract process, which already tends to be complex, costly, lengthy and unpredictable;
Justice systems need to do a better job of providing integrated services and multidisciplinary responses to the many "non-legal" dimensions to issues that arise when families are restructuring; and
The complexity of family breakdown and the relative inaccessibility of the courts results in many family law problems remaining unaddressed and unresolved."
– Reaching Equal Justice Report: An Invitation to Envision and Act, Canadian Bar Association, November 2013: https://www.cba.org/Publications-Resources/Resources/Equal-Justice-Initiative/Reaching-Equal-Justice-An-Invitation-to-Envisi-(1)
– The Water of Systems Change, John Kania, Mark Kramer, Peter Senge, FSG, June 2018
– Thinking in Systems: A Primer, Donella H. Meadows, Edited by Diana Wright, Sustainability Institute, 2008
– What is Access to Justice, Trevor C.W. Farrow, Osgoode Hall Law Journal 51.3 (2014): 957-988
– Geels Framework visual, as shared with the RFJS by Mark Cabaj, From Here to There: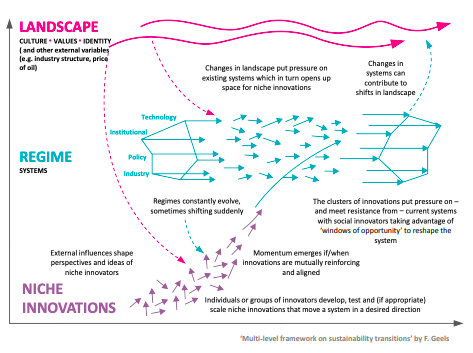 – Transforming the Family Justice System Strategy Map:
A well-designed strategy map improves the odds of succeeding with large-scale systems change by:
Helping to organize complex collaborations of many different organizations involved in different, but mutually reinforcing and aligned actions;
Managing the details of the short-term actions, while allowing all participants to see how the detail fits into the bigger, jointly held vision of the system change that will take longer to achieve;
Providing a structure that monitors progress on actions and measures outcomes beyond the efforts of one organization.
Like a theory of change or a logic model, a strategy map links aspirations with capacities. Our aspirational goal is to "Transform the Family Justice System by Focusing on Achieving Family Well-Being." There are a number of outcome strategies at the top of the map, which incorporate the resilience principles, and also our decision to integrate this work across many sectors. We have capacity development strategies at the bottom. And Action Strategies in the center, which reflect the 3 levels of the Geels Framework.
A link to a webinar on Strategy Mapping with Bill Barberg from InsightFormation, Diana Lowe, QC (RFJS) and Jane Morley, QC (A2JBC) "Advancing Your Community's ACEs & Resilience Strategy" is at: https://improvepophealth.org/advancing-your-communitys-aces